Welcome to Performance Watch - our fortnightly newsletter on the most pressing performance matters troubling system leaders, by performance correspondent James Illman. Contact me in confidence here.
There have been commendable efforts to stave off a meltdown this winter so far.
But the NHS is far from out of the woods, and if you're planning on telling frontline staff or patients winter is going well, don your tin hat.
Views about how winter has gone for the NHS so far are varied – so here's Performance Watch's official half time report.
NHS England has often said in its weekly winter situation reports that the system is performing "well", attracting derision from some.
The Society of Acute Medicine, one of a number of disgruntled voices, last week accused NHSE of putting out "relentlessly upbeat messages" which were "hiding the true picture" of how bad things were on the ground.
NHSE is undoubtedly spinning the data to suggest a rosier picture, as one might expect. And with government and national media hugely distracted by Brexit, there is far less scrutiny from these crucial watchdogs.
A national newspaper health editor complained to me in December that "if it's not about Brexit, the newsdesk just doesn't want to hear about it" – that situation has only been getting more acute through winter.
That said, NHSE's glass-half-full version of events was not without substance. In raw numbers, December was undeniably better than last year's across most indicators, including ambulance handover delays, bed occupancy and stranded and super stranded patients.
This is true too in four-hour waiting time performance: 86.4 per cent of patients were seen within four hours – nearly a percentage point and a half better than the 85 per cent in December 2017.
Performance in major emergency departments (type one) was also better: 79.3 per cent compared to 77.3 per cent – and that is despite higher demand, with emergency admissions 4.6 per cent higher.
Offered these results before winter, most officials at the centre would have bitten your hand off.
The problem is that, since the new year, performance has been sliding south, and towards parity with last year, driven by more rising demand and by dropping temperatures.
Among the worrying signs for the NHS were ambulance handover delays, with performance worse than last year since midway through January (see graph from the Nuffield Trust below).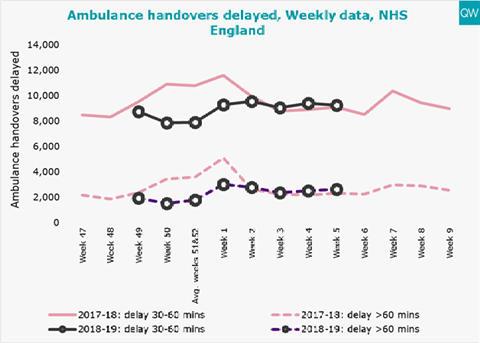 Norovirus incidents, lower in December than the previous winter, are now rising to similar levels as last year, as is bed occupancy.
Nuffield Trust research analyst Jessica Morris told HSJ: "Performance against the key metrics was better during the earlier part of winter, but as the weather has got colder things are potentially slipping back to the same problems we saw last year."
We will find out what impact this has had on four-hour performance later this week, as well as some other indicators.
Of course, one of the major factors for the remainder of winter will be weather.
And it's worth remembering that performance last winter did not hit its nadir until March – when, thanks to the cold and snow of the Beast from the East, four-hour performance dropped to 84.6 per cent, its lowest level in 15 years, with two trusts sinking below 50 per cent.
Meanwhile, Easter weekend – often tricky due to holiday working hours and unexpectedly poor weather – is late this year, coming on 19 April, posing the risk that some winter preparedness may have been relaxed.
With the late Easter very close to the first May bank holiday, anecdotally I hear some trusts are concerned because staff have taken advantage of the opportunity to take an 18-day break between 19 April and 6 May, at the cost of just nine days' annual leave.
Overall, the system can still avoid a meltdown if the weather is kind.
Given the circumstances and expectations, this would represent a remarkable effort from the many involved, who are going beyond the call of duty, and it shouldn't be underestimated.
Yet it is a dangerous and sad state of affairs if the bar for a good winter is only to avoid total breakdown and to better what, last year, was one of the worst in recent memory.