An integrated care centre with a focus on proactive assessment is preventing multiple admissions among frail residents, says Alison Moore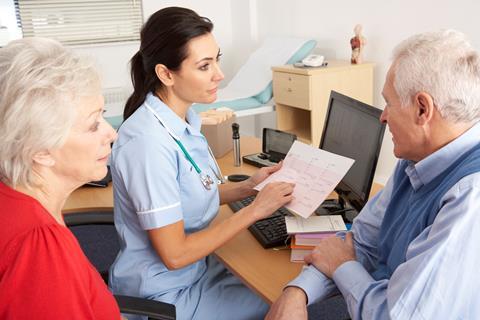 Three thousand of the most frail residents of Hull are starting to get a service that will make the care they receive much more seamless.
The £10m Jean Bishop Integrated Care Centre – which opened recently – brings together services and teams from the NHS, the local authority including the fire service, and voluntary and community groups. It focuses on proactive assessment and care planning, to prevent those patients needing multiple hospital admissions.
It's the sort of innovative purpose-built approach many areas would like to adopt if capital was available to create a hub like this. In Hull, it has been made possible through a Local Improvement Finance Trust scheme. Citycare, NHS Hull Clinical Commissioning Group's estates partner, has worked with the NHS and local authority in the city for more than a decade to develop and invest in their estates.
Sponsored by
Emma Sayner, chief financial officer of Hull CCG, says as well as building new facilities Citycare has worked closely with its partners on an estates strategy. This has meant reshaping some health centres to better meet the needs of today and ensuring that existing estates are "sweated" to get the best value for money out of them.
Citycare has not just provided the funds but has helped with tracking use of space and utilisation to give a granular view of what space is being used, she adds.
Over 13 years, it has averaged a new building a year. While private finance initiatives may be out of favour, there are crucial differences between PFI and LIFT. Tim Wigglesworth, chief executive of Citycare, says: "LIFT is a public private partnership and Community Health Partnerships – which is wholly owned by the Department of Health and Social Care- have got 40 per cent of the stake in it so 40 per cent of the profit we make is recycled back into the system."
Benefits
Former health secretary and MP for Hull Alan Johnson, now the independent chair of Citycare, adds the project has transformed the healthcare estate in the city. "Before it, 85 per cent of the Hull population was using substandard facilities," he says. "Now, over 75 per cent are accessing brilliant facilities through these centres."
He points out that this is also one of the few areas of the NHS really working on utilisation of the available space, with many of the centres open 8am to 8pm seven days a week. And much of the work developing these sites has been done by local companies, putting money back into the Hull economy.
Staff and patients all benefit from the new buildings. Scot Richardson, a partner in one of six practices in Bransholme Health Centre, says the building helps collaboration between GPs and other staff based there – helping deliver more integrated care - and is far more pleasant to work in than his previous premises.
The 307 buildings built under LIFT have helped to deliver flexibility and an emphasis on maximising use in the NHS estate, to give the NHS the best return on its investment
"In my own premises I would have to think about cleaning and maintenance- we are already stretched and that would all be another thing I had to find time for," he says.
But he argues the biggest beneficiaries are the patients who can access many services on the same site. For example, he can send a patient off for an X-ray on the same site rather than having to travel to hospital or the wound clinic can ask him to see a patient they have concerns about. "It's a one stop shop – patient safety and experience are much better because of this," he says.
Mr Wigglesworth says a LIFT project is not about the building but the care which can be facilitated through it. "LIFT was designed to try to help places that were struggling for various reasons," he says. "What we are about is improving the health and wellbeing of people of Hull. LIFT is not just about new buildings – there is a strong focus on efficiency and utilisation of space."
Hull may have one of the greatest concentrations of LIFT projects but the principles behind it are common to all LIFT projects.
Graham Spence, chief commercial officer for CHP, says that the 307 buildings built under LIFT have helped to deliver flexibility and an emphasis on maximising use in the NHS estate, to give the NHS the best return on its investment. By bringing people together it can break through the silo mentality and concentrate on what is important. "We are there to support the delivery of good clinical services and support patient outcomes," he says.
Mr Johnson says that public private partnerships have an important role to play in the capital strapped NHS – and the transformation of the NHS estate could not have happened without it. "There is more than one way to have a public private partnership and ours is different from PFI," he says. "It works in the interests of the citizens of Hull."