UHNM trust warns number of medically fit for discharge patients could hit 300 a day by March
Managers have raised concerns that cuts to community beds have impacted the trust
CCGs believe the region is bed dependant and says alternative services are in place
More than 230 patients waited on trolleys for more than 12 hours in one trust's A&E department during a single month.
The waits in November come after more than a third of the area's community beds were closed.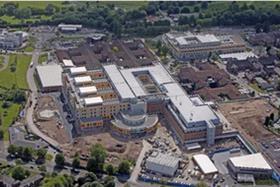 University Hospitals of North Midlands Trust has warned that the number of medically fit for discharge patients waiting to leave its wards could hit 300 a day by March.
In November, the trust reported 237 12 hour waits for a bed at Royal Stoke University Hospital. The trust's delayed transfers of care rate hit an average of 14 per cent a day against the national standard of 3.5 per cent.
Senior figures at the trust have raised concerns that the increase in medically fit for discharge patients followed the decision by Stoke-on-Trent and North Staffordshire clinical commissioning groups to close 105 community beds in the region in recent months. By October, 169 community beds were planned to be closed by the CCGs but UHNM has agreed with commissioners to keep 64 beds open at Bradwell Community Hospital, at its own expense, until March.
The region's sustainability and transformation plan also includes plans to close more community beds and one accident and emergency department, with activity transferring to Stoke.
HSJ understands commissioners believe the majority of patients classed as ready for discharge are still waiting for assessment and the realistic level of unmet need is much lower than indicated by the trust. The CCGs believe the region is too heavily dependent on using community beds as a default option but insist they have invested in alternative services.
According to UHNM board papers, its average number of medically fit for discharge patients per day in September was 192 against a target of 67. At County Hospital in Stafford, the average per day was 49 against a target of 20.
The papers said "without urgent action" the number of medically fit patients waiting to leave hospital could hit 300 by March. A report to the board said: "This would lead to the likely cessation of all planned surgery, including cancer surgical work being put at risk."
Board minutes for a November meeting, published last month, show chief operating officer David Donegan said: "The visibility of such community service/care home capacity had not been made available and approximately 150 beds had been taken out of the system, with an almost equivalent increase in the number of medically fit for discharge patients at the trust, since that time."
At the same meeting, trust chair John Macdonald said the trust was "not assured of the alternative provisions in place due to the pace at which changes were taking place and associated increase in medically fit for discharge patients".
In December the trust identified a bed capacity gap of 193 beds.
UHNM chief executive Paula Clark said: "It is no secret that UHNM has some very challenging pressures in the flow of patients from A&E into a ward and through to discharge.
"This is why we have been very open about our concerns in relation to the timing of the community bed closures. However, following discussions with North Staffordshire and Stoke-on-Trent CCGs we have reached a compromise under which beds available at Bradwell Community Hospital will continue to be used until at least March 2017."
She said this would allow alternative services to be developed before any final decision is taken.
Ian Syme, coordinator for the North Staffordshire Healthwatch campaign group, said the CCGs' plans and timescale for bed closures was "downright foolhardy".
He said: "We're not luddites – we don't disagree with the philosophy, but you can't close a service down without having a credible service in place. That has been the main problem here. We are not confident at all that there are credible services in place. It is a dangerous policy that is putting finance way ahead of safety and quality."
Marcus Warnes, accountable officer at North Staffordshire CCG, said unmet demand was "at the lowest levels they have been for a number of years."
He added: "There is very little if any correlation between the reduction in community bed numbers and delays in discharging people home or into another service. Even with the current and planned reductions there are more than enough community beds in the system to meet demand. The main issue we have is patients waiting for a social care package to go home, along with a number of complex patients with mental health issues requiring long term care.
"Community beds have effectively become waiting rooms for patients that do not need to be there. By meeting need rather than simply filling capacity through moving the problem to somewhere else in the system we are reducing delays within the acute trust."
A formal consultation on future community bed closures will take place in coming months.
Source
HSJ research and trust board papers
Source date
December 2016/January 2017