NHS England could intervene in devolution if performance on the headline A&E target drops
Several Greater Manchester trusts among worst in England for A&E performance
CCGs will not have to maintain a 1 per cent surplus individually
Initial arrangements described as "synthetic" devolution
PERFORMANCE: A number of performance triggers have been drafted which could allow NHS England to "intervene" in the Greater Manchester devolution arrangements.
The triggers include performance on the headline accident and emergency target – the national body would consider action if fewer than 85 per cent of patients across the region were treated in under four hours.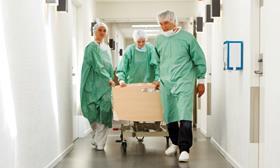 Performance above 85 per cent, but falling short of the national 95 per cent target, would be dealt with by local leaders.
A report to the region's strategic partnership board said NHS England would monitor the performance of Greater Manchester as a whole, while the devolution team would monitor its clinical commissioning groups.
The report added: "NHS England (regional/national) retains the right to intervene in prescribed circumstances as set out… further, Greater Manchester health and social care will support NHS England in providing a direct line of sight on operational performance issues to the secretary of state as and when required.
"Where [Greater Manchester health and social care] is not delivering the requirements of the NHS constitution and mandate at an aggregate level the [Greater Manchester] team will set out for the regional team its proposal for improvement."
The required actions could include an "improvement/recovery plan", more regular monitoring of the standard, or a "requirement for [Greater Manchester] to seek further prescribed support to secure recovery".
The A&E target will be a major concern for the devolution team, as several trusts in Greater Manchester are among the worst performers in the country. Collectively, the region's eight acute trusts only hit the four hour target in 83 per cent of cases in January.
The draft list of triggers for potential NHS England intervention also includes:
Referral to treatment: if the proportion of elective patients waiting longer than 18 weeks falls below 85 per cent (national target is 92 per cent).
Breast cancer symptoms: if the proportion of patients waiting longer than two weeks to see a specialist falls below 85 per cent (national target is 93 per cent).
Diagnostic tests: if more than 1 per cent of patients wait longer than six weeks for tests over a three month period.
The document, which said the triggers are still in development, added: "All indicators described in this appendix will be monitored by NHS England at a [Greater Manchester] level, rather than individual CCG or provider level. [Greater Manchester] internal assurance processes will offer the necessary organisational/place based focus."
However, NHS England could also intervene where there is "sustained non-delivery" at a CCG level. This could include the CCG being required to attend a quarterly review, or the CCG and provider to attend a "tripartite meeting with NHS England and NHS Improvement".
Meanwhile, Greater Manchester CCGs will collectively be required to maintain an aggregate 1 per cent financial surplus to be carried forward each year. Currently each CCG is required to do this separately, but the report said: "[Greater Manchester health and social care] will manage the level of contribution required from each individual CCG."
As revealed by HSJ last month, NHS England will remain legally responsible for delivering the NHS constitution and mandate in Greater Manchester in 2016-17, with its responsibilities delegated to a new chief officer for the region.
The board report said: "Any formal request for delegation of responsibilities… will take some time to work through associated governance processes and is not anticipated to take place until 2017-18 at the earliest. In the meantime, and in line with the pace of development in Greater Manchester, it is intended to honour the principle of devolution even when, for pragmatic reasons, what will have been done in legal terms is internal delegation – a 'synthetic' devolution."