PRIMARY CARE: NHS England has said it is "difficult to justify the continued existence" of a GP practice in south London as its patient list too small to be financially viable.
NHS England and Kingston Clinical Commissioning Group plan to close the GP led Gosbury Hill Health Centre, following a public consultation, and are considering options for relocating the urgent care services provided by the practice to Surbiton Health Centre.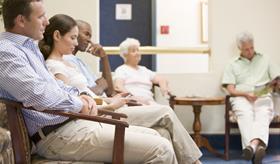 The consultation document, published in November, said the practice's list of 2,000 is "not financially viable" without support from larger practices, making it "poor value for money except in exceptional circumstances".
The document said: "In the case of the Gosbury Hill Health Centre there are two other practices sharing the same practice premises whose lists are much larger and it is difficult for NHS England to justify the continued existence of this registered list service."
The health centre also provides appointment only urgent care services in addition to registered GP services.
NHS England and Kingston CCG have consulted on relocating the urgent care service to Surbiton Health Centre, with the possibility of changing the service to a walk in clinic.
In its March board papers Kingston CCG said a final proposal for the new urgent care services has been delayed "in order not to duplicate work at Surbiton Health Centre".
NHS England is currently considering when to close Gosbury Hill and disperse the patient list. Services will remain open until a final proposal is presented to the CCG governing body.
NHS England said in a statement: "Kingston CCG and NHS England (London) are currently reviewing options on the future of the services at Gosbury Hill Health Centre following a public and local consultation. Patients will be informed about any changes to the service they receive."
Source
CCG board papers and information provided to HSJ
Source date
March/May 2016