North West CCGs introduce restrictions on hip and knee surgery for obese patients
South Cheshire and Vale Royal CCGs have financial problems
NICE chair concerned about increase in CCGs rationing elective surgery
Commissioners in Cheshire have introduced new restrictions to hip and knee replacements for obese patients, which appear to contradict national guidance.
In a letter to GPs seen by HSJ, South Cheshire and Vale Royal clinical commissioning groups set out new referral criteria for the surgeries.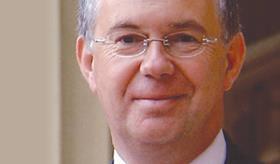 Both CCGs have severe financial difficulties, and had been identified as spending more on these procedures than CCGs with similar demographics, using their NHS Right Care data packs.
Vale Royal CCG overspent its funding allocation by £3.5m in the first nine months of 2016-17, while South Cheshire CCG reported a £5m overspend. Both have told NHS England their deficit plans will not be met, and have noted the "significant risk" of being placed in special measures.
Recent board papers suggested that future operational plans are likely to include "decommissioning services in order that CCGs meet their statutory obligations".
The letter explains that patients should have a body mass index lower than 35 to be referred for the knee and hip procedures.
There was previously no BMI threshold for hip replacements, and a higher threshold for knee replacements.
There are also new thresholds against which to measure the extent of the patients' pain and functional limitations as a result of their arthritis (see image below).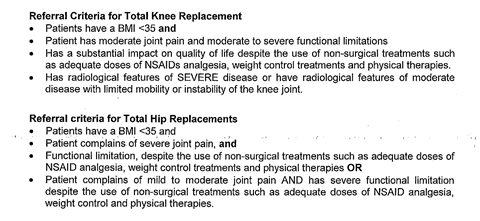 Patients who do not meet the criteria will be referred to primary care support such as exercise classes, physiotherapy, weight management and smoking cessation classes. The CCGs said a new service had been commissioned to deliver this.
Last week, David Haslam, chair of the National Institute of Health and Care Excellence, said he was concerned about the increasing tendency for CCGs to ration elective surgery, and that changes sometimes appear to be introduced in an "almost punitive way".
He told a BBC Radio 4: "The NICE osteoarthritis guidelines make it absolutely clear that decisions should be based on discussion between patients, clinicians [and] surgeons – and that issues like smoking, obesity and so on, should not be barriers to referral."
A spokesman for the Royal College of Surgeons said the CCGs were using "arbitrary pain thresholds and a patient's weight as a way of delaying access to potentially life changing surgery".
"CCGs increasingly seem to be taking this route in an attempt to reduce costs, but this policy only delays surgery and overlooks the potential costs from pain relief medication. This appears to contradict NICE's own guidance," he added.
As NHS finances have worsened there have been more examples of CCGs introducing similar criteria. The RCS estimated that around a third of CCGs had brought in similar thresholds.
Recent board papers for both CCGs said savings have been planned through a "reduction in activity", after variation was identified through the NHS England's Right Care programme.
Right Care data packs have been issued to all commissioners and include an overview of expenditure on specific treatments, and a comparison with comparable organisations.
There have been concerns in recent weeks that some CCGs are using the data inappropriately to restrict access to services.
A spokesman for South Cheshire and Vale Royal CCGs said the packs had indicated that their combined spending on hip and knee replacements was £1.1m higher for than for 10 similar CCGs. He said this had been considered before the new referral criteria were introduced.
He said patients' BMI would not be an "absolute" barrier to surgery, and they could be assessed on an individual basis if there are "exceptional reasons".
He added: "We want to encourage and support people to optimise their health and wellbeing through weight loss, exercise and pain relief, and get the best from joint surgery should this be the best option for them."
HSJ asked NHS England whether it was comfortable with the changes, and why standard referral criteria were not set at a national level for all CCGs.
These questions were not directly answered, but a spokeswoman said the number of NHS funded hip and knee replacements is increasing, and "as has always been the case, it is local GPs who decide when to refer their patients and how best to target the NHS's growing investment in musculoskeletal services".
Source
Information provided to HSJ