Royal Brompton and Harefield FT to build 550 bed hospital
Costs expected to be covered by sale of Chelsea site
Trust chief says new facility will be "asset for the nation"
EXCLUSIVE: A new 550 bed hospital costing £800m will be built in London over the next decade, according to plans revealed to HSJ.
Royal Brompton and Harefield Foundation Trust announced this week it was exploring a move to St Thomas' Hospital on the other side of the Thames after an approach from the Guy's and St Thomas' FT trust a year ago.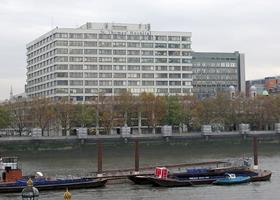 The deal has, in part, been brokered by King's Health Partners, the academic health science partnership bringing together GSTT, King's College Hospital FT, South London and Maudsley FT and King's College London.
It is thought the £800m would be covered by the sale of Royal Brompton's site in Chelsea, with the rebuild taking place in the south west corner of the St Thomas' site, where Gassiot House currently sits.
The development could be managed by a joint venture vehicle comprising both trusts.
Royal Brompton chief executive Bob Bell told HSJ: "We are at the start of a process to explore if a collaboration will work. The aim is to deliver the best patient care – healthcare is becoming less and less about single institutions and far more about collaboration and creating networks and systems of care.
"We are significant hospitals, significant players coming together to achieve something substantial for patients in this country.
"This is about a sustainability proposition that addresses many issues for the long term. Leveraging the value of the estate to secure and develop an asset for the nation.
"The KHP collaboration would keep RBH teams together and protect the 'before birth to old age' service cherished by RBH patients and clinicians."
He said "conservatively" the rebuild could take 7-10 years. When complete it will be among the four largest specialist centres for heart and lung work in the world, he added.
Asked what the move might mean for neighbouring specialist FT the Royal Marsden, which the Brompton has had land disputes with before, Mr Bell said: "If the Institute of Cancer Research and the Royal Marsden want to buy the Fulham Road building we will sell it to them."
The trust has investigated moving to other locations including Cambridge and White City, west London.
As a specialist trust employing many medical professors, the Royal Brompton has strong links with Imperial College London. Mr Bell said the trust hopes to maintain these as it moves to south London and forms closer links with King's College London.
NHS England is due to make a decision on the future configuration of congenital heart disease services on Thursday.
The HSJ Strategic Estates Forum is taking place on 20 March at BMA House in London. This is a high-level strategic forum that brings together estates directors, STP estates leads and trust board leaders responsible for the estates function who are developing strategic plans for their organisations and local health economies. The focus of the forum is on issues such as the delivery vehicle for the Naylor Report, the creation of Project Phoenix, advice on establishing SEPs (Strategic Estates Partnerships) and assessing progress of STP estates plans. Sir Robert Naylor, National Adviser, NHS Property and Estates; David Williams, Director General of Finance, Department of Health and Simon Corben, Head of Profession, NHS Improvement are all confirmed as keynote speakers for the event. Register your interest for this free-to-attend event on our website: https://strategicestates.hsj.co.uk/register-your-interest-attending
Source
Information provided to HSJ