Royal Brompton and Harefield FT announces partnership with King's Health Partners
Plans to sell Chelsea site and move services to new facility at St Thomas' Hospital and Evelina London Children's Hospital
Decision on future of congenital heart disease surgery expected next week
The sale of a hospital site worth tens of millions of pounds has come a step closer after a specialist trust announced a partnership with another trust in a different part of London.
The Royal Brompton and Harefield Foundation Trust, which runs NHS facilities in Chelsea and outer west London, today announced a partnership with an academic health science partnership based in south London.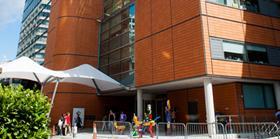 The trust said the partnership with King's Health Partners "envisages the development of a new purpose built clinical academic facility on the St Thomas' Hospital and Evelina London Children's Hospital site". These sites are owned by Guy's and St Thomas' FT.
HSJ reported this possibility in July and this stage comes a week before an announcement is expected from NHS England on the future configuration of congenital heart disease services across the country.
NHS England's proposals for a minimum number of procedures per year per hospital, announced in 2016, had Royal Brompton and University Hospitals of Leicester Trust set to lose services. Although following an agreement with Guy's and St Thomas' on sharing caseload, the Brompton now exceeds that threshold.
Both trusts have argued against this with Royal Brompton saying losing these services would make it unsustainable.
The trust took NHS England to the High Court over a previous attempt to consolidate paediatric congenital heart disease services and the national commissioner restarted the process to include adult and children's services.
The previous process saw Evelina Hospital exceed the minimum treatment thresholds. On any subsequent calculation the volumes of work for Royal Brompton and GSST would presumably be combined.
In a joint statement, Royal Brompton and King's Health Partners said the move would "deliver world class clinical facilities [and] would also provide substantial investment to other sites within the organisations at King's College Hospital and Harefield Hospital, to support the provision of high quality care in a new network for patients across the south of England".
As a foundation trust, Royal Brompton is allowed to retain the entirety of the sale proceeds from its site in Chelsea.
Trust chief executive Bob Bell said: "We believe there is the potential to transform heart and lung disease treatment and research in the UK. Our ambition is to reap the benefits of collaboration by working together across all cardiac and respiratory specialist services for adults and children, in a powerful collaboration between Royal Brompton, Guy's and St Thomas' and King's College Hospitals, and King's College London.
"This would be a UK first in terms of the scale of the partnership and the clinical, education and research benefits it could provide, rivalling the world's largest centres, and becoming the most advanced cardiovascular and respiratory health system in Europe. For instance, our congenital heart services and cystic fibrosis services would continue to offer care from before birth to old age, reflecting what we believe to be the best model for the delivery of a lifetime of specialist care, and crucially, our clinical and research teams built up over decades, would stay together."
The announcement said other partners could be included in the plans.
GSTT chief executive Amanda Pritchard said: "We are excited to explore the potential benefits that this partnership could bring to patients of all ages. We believe that combining exceptional specialist services would not only build on our existing high quality services to offer the best possible care for patients, but it would also give us an unrivalled opportunity to carry out leading research on a larger scale, helping future generations of patients with cardiovascular and respiratory diseases. We look forward to working closely with Royal Brompton and Harefield and King's College Hospital in the coming months."
Chief executive of King's College Hospital FT Nick Moberly said: "We know that working in partnership and sharing our expertise across organisational boundaries allows us to deliver even better patient care and outcomes. We believe that there is a real opportunity for us to rethink and transform how we deliver services to people with heart and lung disease right across southeast England."
Executive director of King's Health Partners Professor Sir Robert Lechler said: "Cardiovascular and respiratory conditions affect patients of all ages, and much of the premature morbidity and mortality caused by these conditions is preventable or amenable to treatment. We have identified the potential to create a world leading centre of excellence and network in cardiovascular and respiratory treatment and research. Our ambition is to create a service that can provide the best possible care to as many patients as possible, both now and in the future."
The joint statement said any proposals would be subject to approval from the Royal Brompton board, regulators and public consultation.
The HSJ Strategic Estates Forum is taking place on 20 March at BMA House in London. This is a high-level strategic forum that brings together estates directors, STP estates leads and trust board leaders responsible for the estates function who are developing strategic plans for their organisations and local health economies. The focus of the forum is on issues such as the delivery vehicle for the Naylor Report, the creation of Project Phoenix, advice on establishing SEPs (Strategic Estates Partnerships) and assessing progress of STP estates plans. Sir Robert Naylor, National Adviser, NHS Property and Estates; David Williams, Director General of Finance, Department of Health and Simon Corben, Head of Profession, NHS Improvement are all confirmed as keynote speakers for the event. Register your interest for this free-to-attend event on our website: https://strategicestates.hsj.co.uk/register-your-interest-attending
Source date
21 November 2017