Chief executive of outstanding rated trust says NHS leaders should "grasp the nettle" when it comes to reconfiguration
David Evans: "Continuity" of Northumbria's leadership key to CQC rating
Says Jim Mackey "hugely" contributed to the success of the trust
The chief executive of Northumbria Healthcare Foundation trust has said NHS leaders should "grasp the nettle" when it comes to reconfiguring acute services, but warned that such initiatives take time to deliver.
David Evans told HSJ the trust's success in being rated "outstanding" by the Care Quality Commission was the result of strong clinical accountability for services, focus on safety and quality improvement, and continuity of leadership.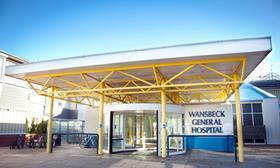 Mr Evans was previously Northumbria's medical director, but took over as chief executive after Jim Mackey left the trust to lead NHS Improvement in November.
He said Northumbria's success was the result of "the staff that work for us" and a focus on "continuous quality improvement" going back 15 years.
Staff had been "motivated and empowered to do things better [by] a clear commitment throughout all levels… that safety and quality would be the key measures of everything we did".
Real time reporting of patient feedback and "an open culture [where] if there's a problem our staff… tell us about it" were also key, he said.
Mr Evans said a decision to restructure Northumbria into business units and service lines when it became a foundation trust had been essential in allowing "clinicians to take control and have accountability for the services they provided".
The CQC's report praised the trust for "effectively" managing its transfer of services from three small general hospitals to a new specialist emergency care hospital at Cramlington, which opened in June.
When asked how other trusts could emulate this, Mr Evans said: "Start 15 years ago."
He said it had been a "long, slow process", but the trust had secured the support of local and national politicians and "got the public behind us".
The reconfiguration had already resulted in a drop in emergency admissions by almost 30 per cent which "put a huge amount of cash back into the local health economy", and length of stay had shortened for about 20 per cent of patients, he said.
Mr Evans urged NHS leaders in other parts of the country planning contentious reconfigurations to "grasp the nettle".
In addition to clinical accountability, Mr Evans said the stability of Northumbria's leadership had also contributed to its high performance.
"I'm the third chief executive in 21 years I think. It's very unusual in terms of NHS leadership to have that sort of continuity and commitment," he said.
He said Mr Mackey had "hugely" contributed to the success of the trust.
"[Jim] was absolutely fantastic at allowing clinical teams… to take on the accountability. Both he and the board stepped back and devolved that responsibility and accountability down to clinical teams and they were able to run with it," he said.
Northumbria has ambitious plans over the next few years. It wants to become the NHS's first functioning "accountable care organisation" and it has also announced an intention to become a "foundation group" helping to improve services through a "multihospital chain".
Mr Evans said the CQC's inspection report was a "very welcome pat on the back" as Northumbria pursued these plans, but added "you can't take your eye of the ball" and promised the trust would stay focused on its "core activity".
'Remarkable' trust given CQC's top rating
1

2

Currently reading

Northumbria chief: NHS leaders should 'grasp the nettle' on reconfiguration