The vast majority of the 100 health service leaders surveyed by Siemens and HSJ thought a clinical service operating at the same level every day of the week unnecessary. Claire Read reports on this and other findings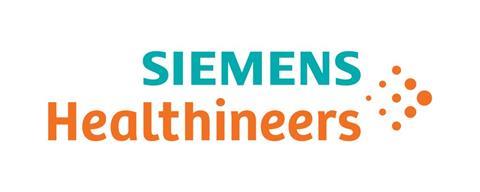 Jeremy Hunt is already embroiled in a fight with junior doctors over the practicalities of seven day working, but an HSJ survey suggests he also has work to do if he is to convert top leaders to his vision.
Over March and April, we consulted over 100 senior figures in commissioning bodies and provider organisations on the subject. Our survey, run in association with Siemens, sought to understand whether they feel the NHS should run a truly seven day service.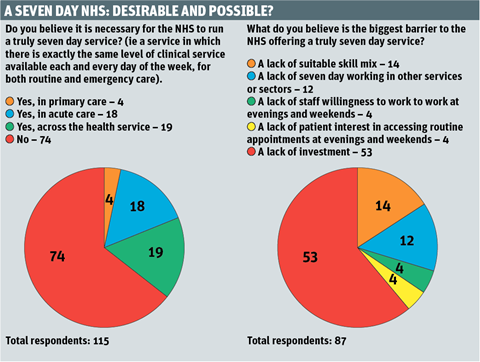 Same level of service
Was it necessary, we asked, to offer exactly the same level of clinical service each and every day of the week – for both routine and emergency care?
The vast majority – 74 of our senior leaders – told us it was not. Only 19 felt it was necessary across the entire health service, with 18 saying it was necessary in acute care only, and four only in primary care.
"It would be desirable but not necessary," suggested one CCG chair. "It will need investment to get the breadth of staff required to make it a functional reality rather than a token gesture."
'The majority of older people prefer to use services during the week'
Predictably, the money issue was commonly cited by our senior leaders. Fifty-three said a lack of investment was the biggest barrier to making full seven day services a reality. Concerns about skill mix, the lack of out of hours working in other sectors, and patient appetite for seven day working were also made reference to.
"It is difficult to see the benefit of persuading patients to access services in the evenings and weekends when the majority of older people prefer to use services during the week," suggested one CCG accountable officer. Further work to understand patient demand for seven day services could assist in designing an appropriately responsive service."
Essential contradiction
The value of such an exercise is underscored by the experiences of those who have already introduced extended working. At Torbay and South Devon Foundation Trust, stroke rehabilitation has run across the entire week since 2009. But Rhoda Allison, consultant therapist in stroke, emphasises the decision to run services in this way was only made after consulting patients.
In a survey, most said they wanted the service to run Monday to Saturday, with 20 per cent or so asking for seven days.
"So our service is more weighted to Monday to Saturday, with a reduced service on the Sunday for ongoing rehabilitation," explains Ms Allison. "We haven't got an even spread across the whole week – I think what we've done is met what people asked us to provide them with."
'They key was not just that it benefited patients, but actually it worked better for all staff'
Consulting staff was equally important: they were regularly asked their opinions on the setup, and it was piloted for six months before being formally implemented.
Katie Johnson, consultant radiologist and associate director at Salisbury Foundation Trust, also stresses the need for strong staff engagement when moving to a seven day service. The trust has offered radiology services across the week since 2006. Dr Johnson says the drive for it was the staff.
"We had a CT scanner and a MR scanner working flat out, so we had a problem with capacity, but also our on call on a Saturday and Sunday was quite inefficient.
"You'd come in to do a scan, go home, come in to do a scan, go home again. We recognised the need to do scans on sick patients at weekends, but also wanted to provide a more efficient service."
Outsourcing reporting
Consultant radiologists now come into the hospital on weekend mornings, working from home on call in the afternoons. To pay for it, the trust outsources reporting between 11pm and 8am to a private company.
"We took the view that [consultant radiologists] being there on a Saturday morning, reporting 20 CTs, doing a few ultrasounds, and 50 plain films was a far more productive use of time than being up all night to report two head scans which were very normal, and which could be very cheaply outsourced to another company.
"They key to this was not just that it benefited the patients, but actually it worked better for all the staff," she emphasises. "That's why it was such a success."
West Hertfordshire Hospitals Trust has had a similar setup since 2009, with consultant radiologists available at weekends for inpatient CT and ultrasounds.
In January this year, the trust also changed from an on call radiographic service for MRI to a 24/7 model. According to Sue Daniels, radiology services manager at the trust, initial take-up for routine MRI weekend appointments is good.
"The feedback we get is they're popular with patients – they don't have to take time off work and so on."
'Extended service provision'
She does stress it is early days for the new system, and that setting it up has required careful thought. "I was very keen to work with the radiographers in working groups to try and get the best system for patients and for the staff," Ms Allison explains. "We spent a long time with the radiographic staff looking at what we needed and trying to meet their requirements and service requirements."
'Please learn from pilot studies across the country rather than pushing ahead with something which may or may not bring health benefits'
It is this which many of our senior leaders feel is lacking in the national conversation about seven day services.
"We need to really consider what we mean by seven day working and talk about extended service provision instead, based around individuals and particular services as appropriate," argued one.
"Ascertain whether there is an appetite to truly invest additional money to provide routine seven day services as well as emergency, and determine if patients actually want or need this as much as the current government," added another.
"Please learn from pilot studies across the country rather than pushing ahead with something which may or may not bring health benefits."
Interestingly, a medical director who works at one of the pilot sites offered some encouragement for Mr Hunt.
"Patient benefit is huge, weekend discharge has improved, but what really surprised us was staff happiness and staff satisfaction has improved a lot and junior doctors' training has also amazingly improved."
The respondent added: "The support we have got from everyone has been immense."
This touches on an essential contradiction at the heart of the seven day services debate, one raised by Dr Johnson.
"We feel very strongly that patients who are unwell – whether urgently or slightly – should get imaging seven days a week," she says.
"To be honest, we'd be quite happy to run a routine service at weekends, but not with the present staff numbers. They cannot work any more [than they already are]. They are exhausted."
Survey: who really wants to see a seven-day clinical service?
1

Currently reading

Survey: who really wants to see a seven-day clinical service?

2