The prime minister has promised a future Conservative government would introduce a cap on care costs, following widespread criticism of her proposals for the funding of social care announced in last week's Conservative manifesto.
Speaking this morning, Theresa May said the cap will be included in the forthcoming green paper on the future of social care expected in the autumn. However, she declined to say how much it would be worth.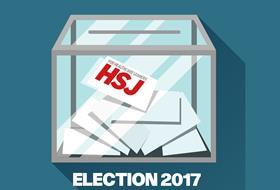 Under plans unveiled in the party's manifesto last Thursday, individuals will be asked to pay for their own care until they have £100,000 left in assets, including property. The costs will be recouped following a person's death.
The policy has been called a "dementia tax" by critics due to the likelihood that those who have the condition stand to lose the most in value of their assets due to the high costs and long term nature of care required.
Following the publication of the manifesto, Ms May's poll lead over Labour leader Jeremy Corbyn almost halved to nine points, according to a YouGov survey for The Sunday Times.
In her speech this morning, Ms May accused Mr Corbyn of "scaremongering" over the proposals.
She said: "The proposals have been subject to fake claims made by Jeremy Corbyn. The only things he has left to offer in this campaign are fake claims, fear and scare mongering. So I want to make a further point clear. This manifesto says that we will come forward with a consultation paper, a government green paper. And that consultation will include an absolute limit on the amount people have to pay for their care costs.
"So let me reiterate. We are proposing the right funding model for social care. We will make sure nobody has to sell their family home to pay for care. We will make sure there's an absolute limit on what people need to pay. And you will never have to go below £100,000 of your savings, so you will always have something to pass on to your family."
Adam Lent, director of the New Local Government Network, said the prime minister's announcement potentially introduced "much greater certainty and fairness" to the manifesto proposals.
He added: "However, the level of the cap will be all important as well as what arrangements are put in place to sustainably fund local provision upfront and share the rising costs of care."