Simon Stevens urges new government to take advantage of record low borrowing costs to set up NHS "investment fund"
NHS England chief warns it is an "open question" whether current capital will be enough to cover basic maintenance
Brexit campaign's "£350m" bus "should be impounded as 'exhibit A'", he says
Simon Stevens has called for the government to take advantage of record low borrowing costs to set up an NHS "investment fund" to pay for infrastructure development.
Appearing at the Commons health committee on Tuesday, the NHS England chief executive said the low cost of UK long term gilts presented "an ideal moment to consider an upgrade in NHS infrastructure".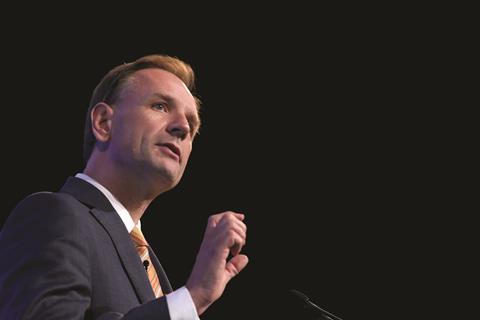 The comments came after Mr Stevens wrote a column in The Daily Telegraph calling for a "substantial NHS 70th Birthday Public Fund for Infrastructure".
Such a fund could replace "inflexibly expensive [private finance initiative schemes]" and "create optimism across the NHS, unleash major efficiencies, turbocharge the construction industry, and be welcomed in across the country", he said.
After the committee hearing Mr Stevens told HSJ he did not envisage the infrastructure fund necessarily being provided to the NHS in 2018. It would preferably be delivered sooner but the NHS's 70th birthday was a useful landmark the announcement of the fund could be linked to, he said.
Mr Stevens told MPs the NHS would have "to do with any capital that's available" because a "sizeable chunk of it is being turned into revenue" to prop up the balance sheet of the provider sector.
However, he warned that it was an "open question" about whether the amount of money being made available would be enough to cover basic backlog maintenance of the NHS estate.
Asked what the impact of the UK's decision to leave the EU would be on the NHS, Mr Stevens responded that it was "too early to say".
He said he had not yet received any assurances from the new government that the £350m promised for the NHS by some leave campaigners would be forthcoming.
Earlier this month Mr Stevens said he would hold politicians to account for their funding promises, and he told the committee that the leave campaign bus that prominently featured the £350m pledge "should be impounded as 'exhibit A'".
While he warned during the referendum campaign that the impact of Brexit on the public finances posed a threat to the NHS, Mr Stevens said withdrawal could present opportunities in some areas.
He suggested the NHS might want to look at moving to a "more flexible set of procurement rules than the EU has gifted us with", and said the health service had "on occasions had its hands tied" by EU rules on "some of the things we've wanted to do on public health".
He pointed to changes to labelling and the tax treatment of some food and drink products as areas where NHS England had been stymied.
Stevens calls for new NHS 'investment fund'
1

Currently reading

Stevens calls for new NHS 'investment fund'

2