England's smallest acute trust is spending 12 per cent of its total income on plugging staffing gaps, with expenditure rising at same time as the cap on agency spending falls.
Weston Area Health Trust's May board papers show it spent £11.7m on agency staff in 2016-17, more than double its cap set by NHS Improvement of £4.68m.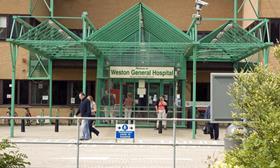 NHSI lowered the agency cap over the course of last year, however Weston Area's monthly spending rose – peaking at nearly £1.2m in January.
The trust also breached its own agency spending target of £6.85m and was identified by NHSI Improvement among the five worst performing trusts against their caps in November.
Spiralling agency costs is just one of many pressures facing the small Somerset trust, which has previously been deemed clinically and financially unsustainable.
The trust has one of the highest rates of acute bed occupancy and delays in transfer of care in the country. It has not met the four hour A&E waiting target since July 2015, and had to divert ambulances for 10 hours when demand peaked on Good Friday this year.
In the board papers, the trust said past uncertainty about its future was having an ongoing "detrimental impact" on attracting permanent staff, leading to an "extensive reliance of locums".
Around one in five of medical positions at Weston General Hospital last year were filled by locums and agency staff. There was also a severe shortage in nursing and other positions.
The papers said: "The trust is focusing on reducing its overreliance on a temporary workforce and has introduced a number of measures, controls and processes to drive its annual costs down to the agency ceiling set by NHS Improvement."
A trust spokesman told HSJ its staffing shortages were exacerbated by the trust's small size, but its agency spending was not "out of kilter" with other trusts in the region.
The shortages were particularly pronounced in specialist medicine, where there were 21 vacancies, including 10 vacancies in ED.
"We fully recognise that one of our main challenges is around specialist medical staffing, particularly overnight," the spokesman said.
In response, the trust created an additional 40 posts, including clinical ones, and was in "ongoing conversations" with agencies about more favourable rates.
Board papers show the reliance of locums had a direct impact on the trust's financial position, with spending on pay £3.01m over budget in 2016-17 despite many positions remaining vacant.
Overall, the trust reported a £7.16m deficit – £3.98m off-budget – for the financial year. It warned that this was projected to rise to £20m by 2021 in a "do nothing" scenario.
Weston Area Health is part of one of most financially distressed sustainability and transformation patches in the country, covering Bristol, North Somerset and South Gloucestershire.
The area's three CCGs, two of which are in special measures, have joined to create a sustainability transformation partnership and hope to cut an expected 2017-18 combined deficit by £82m to meet its control total of £8m deficit.
Source
Turts board papers and information provided to HSJ