Wirral trust chair invited to "give account of himself" at extraordinary meeting of consultants in coming weeks
Trust consultant body "more likely than not" to hold vote of no confidence
Michael Carr was included in allegations made by trust executives to NHS Improvement
The chair of Wirral University Teaching Hospital Foundation Trust has been called to an extraordinary meeting of the trust's consultant body and could face a vote of no confidence, HSJ has learned.
Michael Carr, who has been at the trust for almost 10 years, will be invited to speak to the trust's "medical board" of consultants "to give an account of himself" following allegations made against him and former chief executive David Allison, who left the trust in December.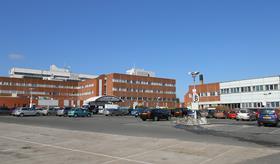 Senior consultants told HSJ that Mr Carr "is more likely than not" to face a vote of no confidence by the consultant body because of concerns over the management of the trust. Mr Carr was the subject of serious allegations by trust directors relating to the organisation's culture and governance.
A meeting involving more than 100 consultants on Tuesday night agreed to invite Mr Carr to an extraordinary meeting of the consultant body in the coming weeks.
Consultants from across the trust met to debate the sudden departure of Mr Allison before Christmas, whistleblowing by three trust executive directors to NHS Improvement, and allegations of a bullying and sexual harassment at the trust.
An independent investigation of these issues is being carried out, including of NHS Improvement's handling of the concerns, which is expected to report to the regulator next month.
One consultant who attended the meeting said acting chief executive David Jago gave a "sanitised version of events", but medical director Susan Gilby gave a "brave, frank and candid account of what had been happening since the autumn".
The source continued: "There was near unanimous agreement that Michael Carr should be invited to an extraordinary general meeting. I think there was just one against. Following that, there is going to be a decision and a vote sent out to medical board members about what they want to do. There was a range of options, one of which was calling for no confidence in Mr Carr.
"It is more likely than not that Mr Carr will face a vote of no confidence. People are surprised he has not resigned already. He has been here for 11 years and has overseen our last two chief executives. Len Richards was a disaster and went after a vote of no confidence and David Allison was more of the same, so Mr Carr has presided over two poor chief executives."
Another doctor said there was "widespread disquiet and concern" about the recent allegations. They said the senior management's actions had been damaging the reputation of the trust. "The consultants at the medical board felt they had to do something, to act for the good of the hospital and its future," they added.
Asked about the wider culture of the trust, another consultant said: "There is a bullying culture. One of my colleagues resigned in tears but it all got hushed up. There is certainly a disconnect between consultants and managers.
"The bullying comes from the executive and, I have to say, some of the clinician managers.
"What clearly has been performing poorly in the trust is the interaction between the chief executive, the chair and the non-executives. We never see them – if all the non-execs walked past me in the corridor, I wouldn't recognise one of them."
Another medic said doctors were concerned "the hospital where they provide clinical care was being dragged through the press and their reputation besmirched.
"The chair remaining in place is preventing us from moving forward. Mr Carr was invited to an extraordinary meeting of the medical board to give an account of himself."
HSJ approached the trust to reach Mr Carr for comment. A trust spokesman said because there was an independent investigation underway it would not be appropriate to comment.
Source
Information provided to HSJ
Source date
18 January 2018