Chancellor says government will provide money for an NHS staff pay rise
Increase depends on reform to Agenda for Change contract
Unions and employers have agreed "broad principles"
New money will be set aside to fund a pay rise for more than 1 million NHS staff but only if unions agree to reform the Agenda for Change contract.
Delivering the budget today, chancellor Philip Hammond made clear the Treasury would provide additional funds for a pay rise for NHS staff but a deal had to be reached on changing terms and conditions.
HSJ can also reveal that pay for doctors and medical staff contracts will be treated differently and will not receive any new money. This means that should there be an increase in medical pay above one per cent the extra money will need to be found from existing budgets.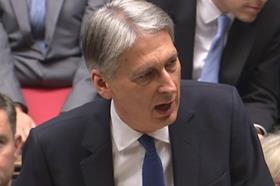 Speaking in the House of Commons this afternoon the Chancellor said: "Our nation's nurses provide invaluable support to us all in our time of greatest need and deserve our deepest gratitude for their tireless efforts.
"The health secretary has already begun discussions with health unions on pay structure modernisation for Agenda for Change staff to improve recruitment and retention. He will submit evidence to the independent pay review body in due course.
"But I want to assure NHS staff, patients and members of this house that if the health secretary's talks bear fruit I will protect patient services by providing additional funding for such a settlement."
HSJ understands Agenda for Change staff have been singled out for new money to fund pay rises after warnings from the NHS that it could not deliver a pay increase from existing budgets.
Health secretary Jeremy Hunt said in June he was lobbying the Treasury for more money on pay.
Earlier this month, HSJ revealed unions and NHS Employers had agreed "broad principles" to deliver a "refresh" of Agenda for Change with an emphasis on reforming increment pay points and pay bands for staff.
Talks between unions and employers have been ongoing since strikes in 2014 but the talks stalled in the absence of an offer of any new money for pay increases above 1 per cent.
The chancellor's announcement means talks could begin within months, though the NHS Pay Review Body is unlikely to report until next year and a final deal might not be reached until after summer 2018.
HSJ understands a deal, if one can be agreed, could be backdated to 1 April 2018.
While there is common ground between NHS Employers and Agenda for Change unions, should the government seek cuts to weekend pay and unsocial hours or reductions in sick pay or annual leave, which have been previous ambitions, unions could struggle to reach a deal.
Danny Mortimer, chief executive of NHS Employers, said: "We look forward to continuing to work with trade union colleagues and the Department of Health to agree how contract arrangements can be reformed and our employees benefit a welcome lifting of the pay cap.
"There is a great deal to discuss but the Chancellor's commitment to fund the additional pay bill is welcome. Meanwhile, NHS organisations are working hard to address staff concerns and better retain vital skills. But they also need national support.
"Increasing training numbers and improving access to affordable housing are welcome recent interventions to help employers recruit and retain staff, but investment is also needed in training budgets (known as continuing professional development, or CPD) as well as reform of migration policy and greater flexibility in apprenticeships."
Janet Davies, chief executive of the Royal College of Nursing said: "The Chancellor has clearly listened to the tens of thousands of nursing staff who've been campaigning for fair pay, and he was right to address their concerns. Promising the NHS additional money for nursing pay is welcome but Philip Hammond must make it a meaningful pay rise.
"The NHS has been running on the goodwill of its staff for too long, and with more talk of reform and productivity, Hammond runs the risk of insulting nurses who regularly stay at work unpaid after 12-hour shifts. Their goodwill will not last indefinitely.
"In the months to come, the Government must allow the NHS Pay Review Body to be genuinely independent of government for the first time in years and give it the freedom to recommend a meaningful pay rise."
Chancellor's funding announcement 'plugs some holes' in NHS budget
1

2

3

Currently reading

New money for pay rises in exchange for contract reform

4