Dave West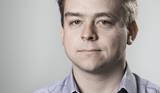 Dave West is HSJ chief reporter. His focus includes commissioning, particularly with NHS England and clinical commissioning groups, and on primary care reform. For HSJ Intelligence, he also covers the Yorkshire and the Humber and North East regions. In the past he has focused on acute care, quality, and informatics. He has been at HSJ since 2008, and in 2013 won the Medical Journalists' Association professional journalist of the year award. He has been nominated for awards for HSJ's interactive clinical commissioning group map.
Follow Dave West on Twitter @Davewwest
Contact Info
Dave West
Senior bureau chief
The role of the market is 'hugely limited' in health and social care partly because its users often 'have no power', the Care Quality Commission chair has said.

Richard Douglas, the Department of Health's highly influential director general for finance and the NHS, will retire at the end of May.

National public health officials have said they will further investigate falls in life expectancy among older people, after finding it was 'too early' to conclude they had stopped living for longer.