Dave West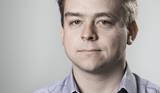 Dave West is HSJ chief reporter. His focus includes commissioning, particularly with NHS England and clinical commissioning groups, and on primary care reform. For HSJ Intelligence, he also covers the Yorkshire and the Humber and North East regions. In the past he has focused on acute care, quality, and informatics. He has been at HSJ since 2008, and in 2013 won the Medical Journalists' Association professional journalist of the year award. He has been nominated for awards for HSJ's interactive clinical commissioning group map.
Follow Dave West on Twitter @Davewwest
Contact Info
Dave West
Senior bureau chief
Simon Stevens has recommended empowering local government to set tougher public health policy, and giving financial incentives, such as tax breaks, to employers which promote health.

The coming financial year will be a 'transition' period with few new national requirements so the NHS 'can focus on core aspects' such as financial sustainability and waiting time targets, NHS England has indicated.

The expert who authored Ed Miliband's health and social care plan has called on politicians to immediately begin a public debate on the future of funding for the services.