As they await the primary care strategy for commissioning in the autumn, GPs and pharmacists should not expect all the answers from NHS England on redesign of primary care, says Martin McShane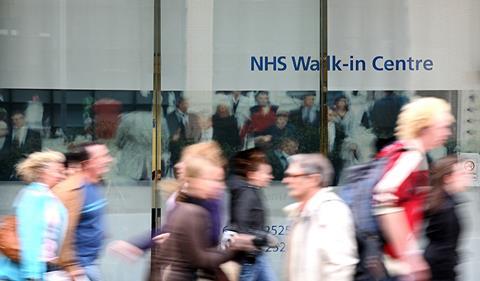 Walk in centre
In October when NHS England publishes its primary care strategy for commissioning, GPs and pharmacists may be expecting many, if not all, the answers to the questions they have raised during the past year and during the various NHS "calls to action".
'The challenge will be to maximise the potential of the network of qualified professionals who can provide instant healthcare access seven days a week'
However, primary care healthcare professionals do not need to wait until October to start redesigning care.
They do not need to wait for new contracts to be drawn up and negotiated, nor should they expect NHS England to wave a magic wand and provide ready made solutions to the challenges facing NHS primary care.
We will set the governance, the outcomes and the accountability, and we will give people the space to design local solutions. We are at the foothills of radical change, but this change will be done by – and not done to – those clinicians who are willing to stand up and lead.
Calls to action for GPs and pharmacists have taken place over the past 12 months, and during the early part of this year NHS England responded to GPs, setting out its emerging findings.
Far reaching change
The case for change for GPs is both demanding and far reaching. They are:
areas with growing populations and comparatively low numbers of GPs will be among those areas subject to competition from new service providers;
primary care must be delivered "at scale", although NHS England stresses that this does not necessarily have to involve a change in organisational form; and
multidisciplinary working, particularly with community pharmacy teams, can play a bigger role in supporting patients with long term conditions.
Pharmacists have welcomed the ambitions expressed for GPs by NHS England, their own profession's call to action, and they suggest that the network of England's community pharmacies is more than ready to step up to the plate.
The pharmacy call to action, which closed in mid March, asked pharmacists and other professional stakeholders to comment on four areas that have the potential to see community pharmacy become an effective alternative to over-subscribed primary care services – particularly GP practices – and act as an important triage to emergency services. The areas are:
creating a "pharmacy first" culture;
ensuring patients get the best from their medicines;
integrating community pharmacy into the patient pathway; and
increasing safety of dispensing.
New pharmacy role
Pharmacy's response to these challenges squarely targets NHS England's demand to achieve care that is more proactive, coordinated, holistic and person centred, and which achieves better outcomes in a more efficient way.
The response sells the potential for pharmacy to play new roles in areas such as:
managing repeat medicines through repeat dispensing;
freeing GP practice time;
supporting GPs with medicines optimisation;
helping older people take their medicines as intended; and
providing first response for minor ailments, lifestyle advice and support for self-management.
The catch, though, is that the utopia set out by pharmacists demands several enablers. The pharmacy contract negotiator for England - the Pharmaceutical Services Negotiating Committee (PSNC) - believes there is a need for a contract redesign that enables community pharmacies to "support the nation to remain healthy or manage disease when it develops".
'Pharmacists or GPs looking only to NHS England for a solution will be disappointed by the forthcoming commissioning strategy'
The PSNC states that increased referrals to community pharmacy – potentially through contractual levers – would not only help manage constrained workload capacity in GP practices and hospitals, but it would also help to re-educate patients about the range of services available at their local community pharmacy.
It also makes clear that the pharmacy network can make a particular contribution to the problem of long term conditions.
However, to achieve this, says PSNC, NHS England, as "a single commissioner of [the GP and pharmacy] contracts, [must] coordinate its work to avoid missing opportunities to facilitate and incentivise better team working across primary care".
Those pharmacists or GPs that are looking only to NHS England for a solution will be disappointed by the forthcoming commissioning strategy. Action to meet the well documented challenges facing the NHS – ageing population, chronic conditions and the funding gap – can, should and is happening now.
Practice organisations such as the London based Hurley Group have combined a number of GP practices to deliver more services and better efficiencies.
Contract flexibility
But, as well as emerging new models of GP practice, existing commissioning routes can be used to make better use of the wider primary care team, particularly the potential contribution of community pharmacy.
Existing contracts and barriers such as the lack of shared patient information do not have to become an insurmountable obstacle. The contracts can be used as a barrier if people want them to be, but they already allow for flexibility.
As new models of care demonstrate, the contracts are only one component that people should be thinking about.
The challenge will be to maximise the potential of the network of thousands of qualified professionals who can provide instant healthcare access, seven days a week, and who can have an influence on medicines, which are a big area of cost, risk and waste in the system.
Inherent in the task of realising the potential of the pharmacy network will be to embed effective self-care into the system.
'People with long term conditions spend four hours a year with a health professional, which means the remaining 8,756 hours are spent self-managing'
Done well, self-care can have a leading role in the expected direction of NHS care over the next five years: by focusing on healthy living, minimising preventable ill health, enabling the self-management of long term conditions, encouraging early diagnosis and making every contact with the NHS count.
As a result, the need for acute secondary care will be reduced.
Understanding self-care and the fact that it is not a fixed, single act is key to understanding how it can be adopted more effectively in the NHS. Self-care is a continuum of activity that at one end supports people as they take individual responsibility for their daily lifestyle choices, for example, eating healthily or choosing to do exercise.
Moving along the continuum, self-care can be applied to the care of minor ailments or long term conditions where people often self-manage without intervention from a health professional.
According to The Self Care Forum, Department of Health figures state that people with long term conditions spend on average four hours a year with a health professional, which means the remaining 8,761 hours are spent self-managing.
At the far end of the continuum is major trauma, where responsibility for care is entirely in the hands of healthcare professionals until the start of recovery when self-care can begin again.
Backing general practice
Very few, if any, patients would reject the aims of the National Association for Patient Participation and the Royal College of GPs' Put Patients First: Back General Practice campaign. It is striving to allow GPs to offer shorter waiting times for appointments, more flexible opening hours, better continuity of care, and longer consultations, especially for those with long term conditions.
Thanks to its applications at all stages of the health activity continuum, self-care encourages healthier lifestyles, reducing unnecessary consultations, and as a result, enables all patients to make better use of the NHS.
But what is stopping the NHS from adopting the self-care continuum with immediate effect? It is clear that a range of environmental factors affects how widely the self-care continuum is adopted in primary care; whether overworked GPs can muster the enthusiasm to invest their time and effort in promoting the concept of self-care to their patients and to each other.
'Practices and GPs need to consistently support the self-care message'
Patients have the will and the knowledge to self-care effectively. Contract financing, particularly of minor ailments, is currently perceived as a major barrier, and this will take time to overcome.
Resources for practices and patients, such as those available from the Self Care Forum, can certainly help, but to be successful there needs to be a culture change in the practice as a whole, among individual GPs and patients.
Practices and GPs need to consistently support the self-care message, discouraging inappropriate prescribing and encouraging the whole practice, as well as the wider multidisciplinary team, to get behind the self-care agenda. Finally, patients will need support if they are to become more self-care aware.
This is certainly not easy to do, but it is a must do. Doing nothing – maintaining the status quo – is not an option. NHS finances simply do not allow it. Necessity will be the mother of invention.
Dr Martin McShane is NHS England director for long term conditions