London Ambulance Service put in special measures
Staff reported feeling stressed and fatigued
PERFORMANCE: London Ambulance Service Trust has been put in special measures after an inspection that found staff did not feel supported and response time performance was regularly the worst in the country.
It is the first ambulance service in the country to be placed in special measures, following a Care Quality Commission inspection in June.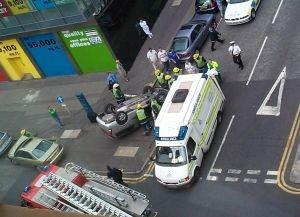 The CQC said major incident protocols, which are meant to be reviewed annually, had not been amended since 2012.
Some staff said they were "unaware" of the major incident procedures and most ambulance crews had not been trained in major incident procedures apart from practices for the Olympics in 2012.
The trust has since told the CQC these protocols have been reviewed and staff training updated.
Inspectors found incident reporting needs to be improved. Staff shortages and a lack of allocated time to complete incident forms meant they were not "consistently reported".
The trust had no systems, checks or regular audits in place to ensure medicines removed from paramedic or general drug packs had been administered to patients, the CQC report found.
Staff worked long hours and many reported feeling stressed and tired.
Until March 2014 the trust was consistently one of the best performing services in the country against the target to send an emergency response to 75 per cent of serious calls within eight minutes. Its response times for the most serious calls are now the worst in the country.
In the patient transport service the cleanliness of vehicles did not consistently meet expected standards and none of the vehicles inspected had all the personal protective equipment required.
Palliative care patients "often had long waits" for transport, inspectors said.
Some junior paramedics said they had "very little support" when they joined and "were expected to work on the front line without the guidance of an experienced or senior paramedic".
Some staff told inspectors they welcomed the appointment of chief executive Fionna Moore at the beginning of the year and she had helped boost staff morale.
However, the trust had a shortage of paramedics and inspectors had "significant concerns" about reports of bullying and harassment. The CQC noted that an independent report into bullying and harassment was produced in November 2014 but was not presented to the board until June 2015.
Staff were "caring and compassionate" in "very difficult and distressing circumstances" and were "open and honest" about the challenges they faced.
They were "largely supportive" of their immediate managers but found some senior managers and board members "remote and lacking an understanding of the issues they were experiencing".
The NHS Trust Development Authority has appointed an improvement director, Lesley Stephen, to help the trust improve and the Defence Medical Services will provide leadership training and an education programme using military planning tools.
Senior TDA staff will help the trust in the areas of workforce, quality improvement and medicines management.
The trust has recruited a bullying and harassment adviser and organisational development adviser.
Sir Mike Richards, CQC chief inspector of hospitals, said placing the trust in special measures was "the step necessary to ensure that this vital service – which provides emergency medical services to 8.6 million Londoners – gets the support it needs to improve".
Sir Mike said the trust had a "very serious" problem with meeting performance targets that it "clearly isn't able to address alone".
He added: "The frontline staff who CQC inspectors talked to and observed in their work were overwhelmingly dedicated, hardworking and compassionate, which is why I have rated this service 'good' for caring. However, these staff were not being properly supported to do their jobs."
Source date
26 November 2015
First ambulance service placed in special measures
1

Currently reading

First ambulance service placed in special measures

2