NHS Improvement chief says he has to get the provider sector in balance in 2016-17
Jim Mackey confirms national tariff rate will increase by 1 per cent in cash terms
Warns if the DH has to ask for more money it will "annihilate confidence in the service"
DH official says overspending on the revenue account in 2015-16 will be "taken off us next year"
The first chief executive of NHS Improvement has said he will be required to ensure the provider sector achieves financial balance in 2016-17.
Jim Mackey, who will lead the new regulator from next year, has also warned of the "fatal" consequences of the Department of Health breaching its overall revenue spending limit in 2015-16.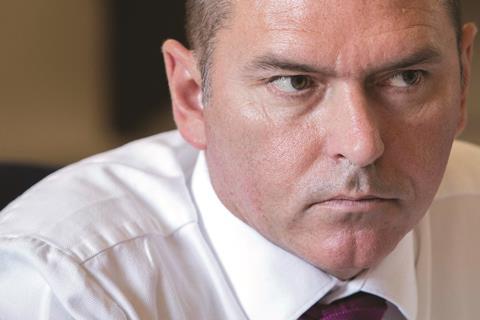 Meanwhile, a senior official at the DH has said overspending this year will be taken from the 2016-17 allocation.
Speaking at the Healthcare Financial Management Association conference today, Mr Mackey said there will be some "targeted growth" to reduce provider deficits next year, but this is still being negotiated and the money would have "strings attached".
He also confirmed the national tariff rate will increase by 1 per cent in cash terms in 2016-17, as HSJ reported earlier this week.
He believes these measures can help bring 80 per cent of NHS trusts into surplus, but warned there are a "handful of organisations that will have to go through a very painful process" in the new year.
The "strings attached" could include progress on savings identified by Lord Carter, and ensuring a sustainable financial plan is in place, he said.
Providers reported a combined deficit of more than £800m in 2014-15, and have forecast a deficit of more than £2bn for 2015-16.
Mr Mackey said: "The requirement of me will be for the provider system to get in balance next year, and I think it's possible."
Asked about the consequences of the overall DH revenue budget being overspent this year, which would breach the parliamentary "vote" on spending, he said: "I can't emphasise enough that this is really, really serious stuff.
"The provider sector has to do its bit to get to a position where we don't bust the vote this year. I don't know [the consequences] but I can't think they're very pleasant.
"My understanding is it's a serious parliamentary process, so someone has to go into Parliament, probably the secretary of state, and ask for extra money.
"So I think that's fatal for a lot of people, on one level. More importantly it will really annihilate confidence in the service."
He warned that if this happened it would reinforce views that the NHS "shouldn't get any extra money because we can't be trusted with it", and urged trusts to "tip the kitchen sink at it, turn the sofa over, make sure we do not bust the vote".
"Whatever gets away from us this year is a problem next year so we have to absolutely do everything we can to hit the control totals or the position you've agreed with Monitor or the [NHS Trust Development Authority] for the remainder of this year," he added.
Next year will be treated as a "fire break", Mr Mackey said, and trusts must use it to take difficult decisions around controversial service changes. He gave an example of an area that has two accident and emergency departments within miles of each other.
He said: "This is the time to tackle those things. We are in part of a political cycle where things are possible this year that might be impossible in two or three years' time."
At another session, Andrew Baigent, director of financial management at the DH, said overspending on the revenue account in 2015-16 will be "taken off us next year". In 2014-15, the DH reported an underspend of just £1m.
He said if the health service busts the vote, "leaders of the NHS and health will be up in front of a House of Commons committee. It will get horrible."