Great Ormond Street Hospital finds 7,000 patients who should have been on its waiting list that were not recorded
"Small number" of patients sent to other providers as GOSH seeks to ensure no patients were harmed
GOSH has not reported waiting times data since July
PERFORMANCE: An internationally renowned children's hospital had to send patients to other providers after discovering its waiting list was four times bigger than it thought, HSJ can reveal.
Great Ormond Street Hospital for Children Foundation Trust saw its waiting list grow from 2,000 to more than 9,000 after it realised it had not properly recorded the waiting time information for thousands of patients.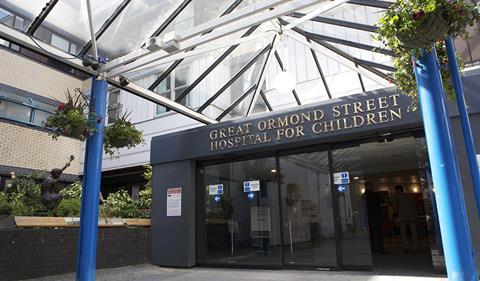 The London based trust was criticised by the Care Quality Commission last month and the full size of the waiting list backlog was revealed in the trust's January board papers.
The CQC issued a requirement notice to the trust to improve its waiting time information system and a quality summit with the trust was scheduled for this month.
GOSH is a specialist trust accepting referrals from all over the country. It does not yet know if any patient has come to harm as a result of the oversight. A clinical panel is working through the backlog to assess this.
The trust said it had referred "less than 10" patients to another provider but would not say which, claiming to do so would breach patient confidentiality.
HSJ understands the problem is more that existing patients have not been properly reported on, rather than being forgotten, but the trust does not yet know how long different patients have been waiting.
The problems largely affected the outpatient, surgical and diagnostic divisions.
Trust chief executive Peter Steer told governors care had been taken not to treat private patients ahead of NHS patients in the light of the oversight. Ten per cent of the trust's £412m turnover comes from private patients.
The trust has not submitted waiting times data to NHS England since July. Dena Marshall, the chief operating officer, told the board it does not expect to have its data properly validated until December.
The trust was rated "good" by the CQC. HSJ understands the waiting list problems are what prevented the trust from being awarded the "outstanding" rating.
Trusts not reporting waiting times
Great Ormond Street Hospital is one of nine trusts in England not reporting their waiting times data.
The other eight are:
Barking, Havering and Redbridge University Hospitals Trust;
Barts Health Trust;
Homerton University Hospital FT;
Humber FT;
Kettering General Hospital FT;
King's College Hospital FT;
Medway FT; and
Walsall Healthcare Trust.
HSJ understands there are two principal reasons why a trust tends to stop reporting: when it has changed IT system; or when a query from a regulator prompts an examination of its patient information system.
Some trusts employ workarounds for their own information systems that see patient waits go unrecorded.
HSJ been told some trusts could be using a long period of non-reporting to treat patients who have been waiting a year or more, without being fined by commissioners.
A GOSH spokesman said: "As we have previously acknowledged, we are disappointed that our record keeping and processes have not historically matched the high standards of clinical care we provide.
"Since we became aware of this issue however, we have taken decisive action and work is now well underway to ensure our processes for managing data correctly are as robust as possible.
"As a result of our improvement programme, the trust now has a robust patient tracking list in place with total visibility of all patients who have been referred since October 2015. This has increased the overall size of the PTL, reflecting all patients who are on a pathway regardless of what stage they are at.
"At this stage, we have no evidence that any patient has suffered harm as a result of being added late to our PTL. As part of the reassurance process, the medical director has established a clinical review group to review this on a weekly basis.
"We have kept our regulator and other NHS national partners informed of our progress. They have expressed confidence in our efforts to resolve this issue."
An interim director of information has been seconded to the trust from the national intensive support team for elective treatments.
Senior figures in London and paediatric care told HSJ that although the current leadership team was impressive, the trust had never developed a strong culture of operational oversight.
They also said bed management was archaic with no centralised system, and GOSH had struggled to adapt its reporting to the more complicated referral pathways it is at the end of.