Jeremy Hunt will take the lead on mental health issues in addition to overall health policy as part of the shake-up of Department of Health ministerial portfolios.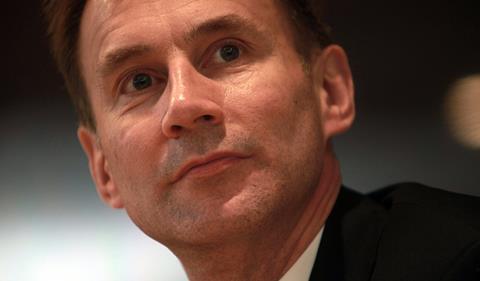 Jeremy Hunt 2014
The department has also allocated portfolios to its new junior ministers who were appointed as part of Theresa May's wide-ranging government reshuffle last week.
Mr Hunt's profile on the DH website now says: "[The health secretary] has overall charge of all areas of health policy with a particular focus on financial control and oversight of all NHS delivery and performance.
"He will also lead on all aspects of mental health and championing patient safety."
The mental health brief was previously held by minister for community and social care Alistair Burt, who left the DH earlier this month, after announcing his resignation from government.
Former productivity minister Lord Prior will take on a new brief that includes overseeing "NHS and EU issues". He will also oversee drugs spending, life sciences, NHS commercial issues, blood and transplants.
New minister of state for health Philip Dunne, the second ranked minister in the department, will oversee hospital care, NHS performance and operations, NHS workforce, patient safety and maternity care. Mr Dunne was formerly a junior defence minister.
Nicola Blackwood has been given the title under secretary of state for public health and innovation. She will lead on public health, health protection, technology, innovation and data. Ms Blackwood was previously chair of the science and technology committee, a role she held since June 2015.
David Mowat has been appointed parliamentary under secretary of state for community health and care. He will lead on adult social care, carers community services, cancer, dementia, learning disabilities and all elements of primary care, including dentistry and pharmacy. Mr Mowat was previously parliamentary private secretary to Greg Clark.
The incoming trio follow the departure of junior health ministers Jane Ellison and Ben Gummer, who were moved to financial secretary to the Treasury and minister for the Cabinet Office respectively, and Mr Burt to the back benches.
Life sciences and digital minister George Freeman has left the DH to chair the prime minister's policy board. Mr Freeman, who had held the role spanning both the DH and the Department for Business, Innovation and Skills since 2014, said he was "delighted" to be moved into the key policy position.