At least 37 CCGs may force patients with ongoing care needs to accept residential care home placements due to restrictions to NHS Continuing Healthcare funding
More than 13,000 people could be affected by the policies in these 37 areas
At least three CCGs confident their policies are legal despite concerns they may breach the human right to respect a person's family life
Thousands of patients could be forced into residential care as a result of clinical commissioning groups restricting funding for care at home, data shared with HSJ reveals.
Thirty-seven CCGs have set cost restrictions on NHS Continuing Healthcare funding, which pays for ongoing care for adults who are assessed as having a primary medical care need. It is arranged and funded solely by the NHS.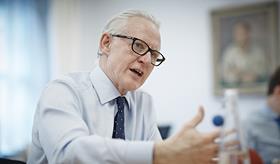 Nineteen CCGs have said they will not fund care in a person's own home if the cost is more than 10 per cent above that of an "alternative option", which is normally a residential care home placement. A further seven CCGs have set cost caps at 20, 25 or 40 per cent above care home fees.
Eleven commissioners have said they will restrict the cost of individual Continuing Healthcare funding but have not set a cap.
The information was obtained through a Freedom of Information request by campaigners Disability United. They received responses from 122 CCGs, which shared their current Continuing Healthcare policies.
The latest Continuing Healthcare eligibility figures from NHS Digital suggests up to 13,018 people may be affected by the restricted funding policies in the 37 CCG areas. Recipients may have a significant brain injuries, physical or mental health disabilities.
Although the 37 CCGs had slightly differing policies, they all said their Continuing Healthcare funding policies will apply in all but "exceptional circumstances", or similar wording.
Former care minister Norman Lamb described the situation as "scandalous". He said: "If someone is capable and able to live independently to force them to live in a care home is outrageous. It is the worst manifestation of the pressure on the system to deny someone independence because of a refusal to fund it. It treats people as a second class citizens."
Three CCGs actively discussed legal concerns in their policies. Coastal West Sussex and Trafford CCGs both recognised that their policy may be considered an "infringement" or "interference" on an individual's "article eight rights" but believe that they can both legally justify the restriction on grounds of cost. Article eight is part of the Human Rights Act and says everyone has the right to respect for his or her private and family life.
Dorset CCG said its policy was checked by solicitors to "ensure the CCG would not be subject to legal challenge". Both Dorset and North, East, West Devon CCGs have said that "if a person refuses to consider or accept any of the placements" offered the CCG would consider it has "fulfilled its statutory duty" and expect the individual to make their own arrangement within 28 days.
Cambridgeshire and Peterborough CCG and Fareham and Gosport CCG said the setting in which Continuing Healthcare is provided is "decision [made] by the CCG", not the individual.
NHS England's operating model for NHS Continuing Healthcare said no services or funding should be "unilaterally withdrawn" until "alternative funding arrangements" have been put in place. The model also said CCGs must ensure their commissioning process is "person centred, high quality and promote dignity and value for money".
The document makes no reference though to the legality or otherwise of any proposed cap on funding, though it said "there should be no variation in access". NHS England did not respond to HSJ's request for comment.
The Department of Health's national framework for continuing healthcare said care should put "the individual, their needs and choices that will support them to achieve optimal health and wellbeing at the centre of the process". It said: "CCGs can take comparative costs… into account… but costs have to be balanced against other factors… such as individuals' desire to continue living in a family environment."
A DH spokeswoman said in response to the findings: "We expect all CCGs to follow the national framework, and continued independence should be considered as part of the overall approach to care planning. [But] as CCGs are statutory bodies in their own right, it does not fall to the Department of Health to approve an individual CCG's policy."
The editor of Disability United, Fleur Perry, who is a recipient of Continuing Healthcare funding, told HSJ: "People are extremely worried about this. We knew it was happening but no one knew the scale of the problem. The response to the findings has been one of unanimous shock. How would anyone feel that is forced to move from their home into an institution? Every single activity would be controlled and planned by others."
All CCGs were requested to send their Continuing Healthcare choice and equity policy or similar, with 122 responding. In addition to the 37 restricting funding, 41 did not have a specific policy but follow the guidance from the DH and NHS England. Eighteen commissioners had either an unclear policy or a policy that was under review, and six had a policy that appeared more favourable than standard guidance.