Nottingham University Hospitals Trust will take back 1,500 staff from Carillion by 1 April
Contract termination follows months of complaints over standards
Five year contract worth £200m was awarded in 2014
Nottingham University Hospitals Trust will terminate a five year, £200m estates and facilities contract with Carillion by 1 April.
The company has been repeatedly criticised by the trust board and staff after it emerged nurses were needing to clean wards after Carillion staff had finished, to maintain hygiene standards.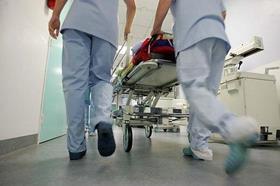 The trust has also complained about a shortage of staff and supplies of linen, as well as the availability of equipment and portering services.
NUH said today it had "mutually agreed" with Carillion to a managed exit from the contract with services coming back in-house by 1 April.
The trust warned the company last July that unless there were improvements it would terminate the contract and has pointed to a shortage of 70 cleaning staff as the cause of some of the problems.
Carillion was awarded a five year contract worth £200m to run estates and facilities services for the trust in April 2014, following a competitive procurement process. Around 1,500 staff transferred to the company in 2014 and will now transfer back to the NHS.
A message to staff today said the trust planned to start a recruitment exercise this month to address "staffing gaps".
Services currently managed by Carillion include cleaning, catering, laundry and linen, car parking and security. Carillion will continue to manage car parking and traffic management under the new arrangements. All other services will transfer back to the trust.
The trust said today: "We recognise the continued hard work of Carillion staff as NUH and Carillion have discussed what the future holds. Over the coming weeks, a process will commence that will see Carillion staff transfer back to NUH by April.
NUH chief executive Peter Homa added: "The trust will require a period of time to assess and action what is required to take forward these essential services and deliver the highest level of service to our patients and front line staff."
Source
Statement provided to HSJ
Source date
1 February 2017