Three CCGs face deficit of £90m in 2017-18
Intervention by NHS England and NHS Improvement
New chief officer to lead all three organisations from 2 May
A sustainability and transformation partnership with severe financial problems is seeking £82m savings, as current plans amount to a £90m commissioner deficit for 2017-18.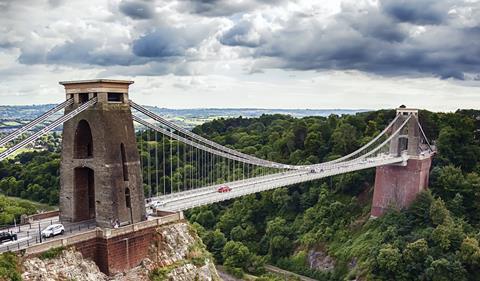 Bristol
Bristol, North Somerset and South Gloucestershire clinical commissioning groups have said that current plans would amount to a £90m combined deficit for the current financial year.
Their combined control total for 2017-18 is an £8m deficit, and they have announced new joint work to find £82m in savings.
The combined deficit of South Gloucestershire and North Somerset CCGs at the end of 2016-17 was £47m, while Bristol achieved a small surplus, according to board papers.
South Gloucestershire's deficit deteriorated late in the year from a £15m plan to £32.9m. It attributed nearly £10m of the decline to over-performance in acute expenditure. Its deficit amounts to around 11.7 per cent of its 2016-17 allocation (£279m).
The STP area has one of the largest overspends relative to its total budget, according to HSJ analysis. NHS leaders in the area have been warned by national regulators that they must make huge savings in 2017-18.
According to South Gloucestershire's board papers for April, NHS England and NHS Improvement have written to the CCG accountable officers and trust chief executives, as the health economy "has not been able to agree a set of affordable operating plans or agree financial control totals".
The regulators have told the organisations to "look beyond their own boundaries" to create affordable financial plans "based on agreed demand and capacity plans that also manage both winter pressures and delayed transfer of care".
A revised plan will be submitted on 5 May.
So far savings opportunities worth £65.9m have been identified for 2017-18 across the CCGs. They said the three areas with the largest potential for savings are:
Managing demand in elective care and ensuring efficient patient pathways (£15.8m);
Controlling growth in mental health spend by moving towards more locally based delivery (£9.9m) and;
Medicines management (£7.4m)
The three CCGs have announced that work is ongoing. Bristol CCG clinical chair Martin Jones warned in a statement of "difficult decisions" ahead.
"But in order to protect the widest possible range of healthcare services for the broadest possible population we will have to ask ourselves, and most importantly the people we serve, how we make the best use of resources to continue to meet local health needs," he added.
The CCG said "specific engagement programmes" will be carried out where proposals may have an impact on patient services.
The three CCGs – two of which are subject to NHS England legal directions – will share a single accountable officer, Julia Ross, from 2 May. She joins from North West Surrey CCG where she was chief officer and sustainability and transformation plan lead for Surrey Heartlands.
Source
Board papers and information provided to HSJ