Health minister confirms capital to revenue transfers will stop in 2019-20, with the size being reduced each year
HSJ previously reported that £1bn would be transferred this year, followed by £500m in 2018-19 and £250m in 2019-20
NAO previously raised concerns about repeated raids on the capital budget
The Department of Health has confirmed that NHS investment funds will continue to be raided for the next three years to prop up day to day revenue budgets.
In a letter to the Commons health committee, minister Philip Dunne said the DH is planning to cease transferring money from capital budgets by the end of 2019-20, with the size of the transfers being reduced each year.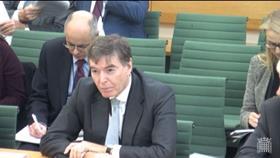 In December, HSJ reported figures used by national NHS leaders in a presentation document, which said £1bn would be transferred this year, followed by £500m in 2018-19 and £250m in 2019-20.
However, the DH would not confirm these figures at the time.
Mr Dunne's letter, published by the committee last month, said: "Over the remaining three years of the spending review period the department is planning to reduce the level of transfer with the aim to eliminate it by the end of 2019-20 and this will allow us to meet the commitment to £20bn investment over the period."
The capital budget has been repeatedly raided in recent years to balance growing revenue deficits in the NHS trust sector, with £1.2bn transferred in 2016-17 and £950m the previous year.
Throughout 2016-17, regulators repeatedly told trusts to scale back their capital investment plans, for fear of breaching the reduced national spending limit.
The shortage of capital funding means NHS Improvement has been looking to encourage forms of "off balance sheet" private investment, and therefore not score against the government spending limits.
The DH annual capital budget had already frozen in cash terms at £4.8bn over the five years to 2020-21, before accounting for the transfers to revenue.
In October, official data showed a huge spike in "high risk" maintenance problems on NHS trust estates, as capital investment has fallen.
Meanwhile, many sustainability and transformation plans have set out huge requirements for capital investment to reconfigure services or make crucial improvements to IT systems.
This has led providers in most regions to look at options for private investment in their estates, such as the private finance initiatives or local improvement finance trusts.
In a note attached to the DH annual accounts in July, the head of the National Audit Office raised concerns about the transfer in 2015-16, saying this approach was "unsustainable" and would have "significant consequences for both service users and taxpayers".
Mr Dunne's letter added: "For the last 10 years, overall capital expenditure has been significantly lower than the budgets set, and so this has enabled us to use the difference between assessed capital demands, to make capital/revenue transfers in order to increase the level of revenue resources available to the front line."
He said the DH is "actively seeking ways" to increase capital resources, and noted how Sir Robert Naylor's recent review of NHS estates pointed to three sources of income: surplus property disposals; private capital; and further public funds.