A clinical commissioning group has sought assurances from the private firm awarded a £6m patient transport contract, after staff were warned they would not be paid their first month's wages in full.
Thames Ambulance Service Ltd was commissioned by Hull CCG to take over the non-emergency patient transport services contract from Yorkshire Ambulance Service Trust on 1 April.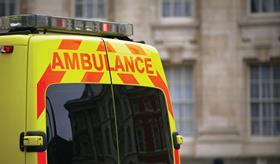 However, staff in Hull, who transferred from the trust to the company under TUPE regulations, were informed days before pay day on 28 April that overtime and expenses would not be paid until later because of "cash flow problems".
HSJ understands staff were paid in full after Hull CCG was alerted and a meeting was held last week where commissioners sought assurances from Thames Ambulance's senior management.
A CCG spokeswoman said: "We recognise that the issue that affected the pay for Thames Ambulance non-emergency patient transport staff last week will have caused some anxiety for people.
"We met Thames Ambulance senior management and had an in-depth discussion about the underlying causes of events.
"Thames Ambulance has strongly assured the CCG that there will not be a repetition of the issue and we will continue to keep the situation under close scrutiny."
The company confirmed it had warned staff in Hull of a potential split in salary payments.
The letter to staff said they would receive split pay, with their basic wages being paid on 28 April and their expenses, allowances and overtime being paid "no later" than 5 May.
It said: "We sincerely apologise for the delayed payment of these additional sums due. This is due to unavoidable cash flow issues associated with this month's contract changes in Hull, Sussex and Basildon, and delayed payments due to retrospective authorisation.
"We hope that by minimising the delay to no more than four working days that no one will suffer undue inconvenience."
Ray Gray, Unison's regional officer for east Yorkshire, said the problems experienced a month into the new contract did not "bode well".
He said: "You would think that Thames would try and make an impression on their first month of the contract but apparently not.
"The CCG was exceptional in the effort they put in to make sure the staff did get paid but there are so many issues relating to this contract on what is only the first month that it does beg the question should Thames Ambulance keep this contract?"
Thames was one of the firms subcontracted by Coperforma to provide ambulance services in Sussex before the contract was taken over by South Central Ambulance Service Foundation Trust on April 1.
Andrew Tuke, finance director at Thames, said the company had worked with the CCG to ensure staff received their full entitlement on the correct day.
He said: "Thames Ambulance has worked with assistance from Hull CCG to ensure that payments have been settled in full.
"Thames Ambulance has written to all staff asking them not be alarmed by the totally inaccurate and unfounded suggestions concerning Thames Ambulance's financial sustainability.
"The company is financially sound, successful and determined to continue providing high quality services to our patients."
The company said it had assured the CCG the cash flow issues in April were "not due to any underlying issues and does not expect any repetition of the circumstances."
This article was updated at 10.35am on 11 May.
Source
Information provided to HSJ