A shadow board has been set up to pave the way for a commissioning support unit to turn into a community interest company owned by its customers, HSJ can reveal.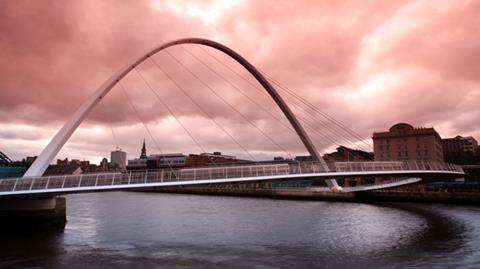 Dusk over the Millenium bridge in Newcastle upon Tyne
The Northumberland, Tyne and Wear and North Durham sustainability and transformation partnership set out plans to convert the North of England Commissioning Support Unit into a company last year.
The STP said the company will be owned by the 11 clinical commissioning groups that form the Northern CCG Forum covering the North East and Cumbria, support the delivery of the STP and save money to be reinvested in frontline care.
A shadow board has been formed and met twice since the plans were published and it is hoped NECS will be a CIC by the end of the year.
The board is made up of three CCG representatives, NECS managing director Stephen Childs and finance director Neil Nicholson.
NECS said NHS England is in the process of nominating someone to join the board.
Mr Childs said NHS England's Next Steps document had implications for the future of commissioning such as regions moving to accountable care systems, which had to be reflected in the way NECS works.
He added: "The region's CCGs and NECS remain firmly committed to creating an autonomous, customer owned community interest company.
"We will continue to progress towards a community interest company over the coming months. In the meantime, a shadow board, with directors drawn from the CCGs, is working to realise some of the benefits of this new approach."
The 11 CCGs in the North East and north Cumbria have agreed the terms of reference for the shadow board to test out how it will be governed after the transition.
CSUs are currently hosted by NHS England. Since they were first established in 2011 the policy has been that they would become independent entities.
The idea of CCGs taking ownership of CSUs was first floated in 2013.
Any potential impact of the change to CCGs in other regions that use NECS has not been fully assessed.
NECS employs 800 staff and provides business support and intelligence, communications and engagement, procurement and clinical support services.
A CIC is a limited company whose assets must be used in improving the community, and which has limitations on what dividend and interest payments can be made to shareholders.
Source
Information provided to HSJ