Performance on main A&E measure lowest since targets introduced
Fall in performance outstrips 3.7 per cent increase in admissions and attendances
North west London and Cambridgeshire see worst performances and steepest declines
Accident and emergency performance for December in England has sunk to its lowest level since the data started being collected more than a decade ago.
Against the target that 95 per cent of patients be treated within four hours, the English NHS achieved 86.2 per cent.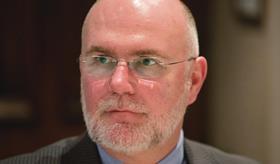 This was on the more flattering "all types" measure, which includes urgent care services such as walk in centres as well as major A&E units. When performance is assessed purely for "type one" A&Es, the performance is lower still at 79.3 per cent.
In December 2015 the performance for type one was 86.6 per cent – meaning performance has fallen 7.3 percentage points in a year.
This was against a year on year increase in type one attendances and admissions of 3.6 per cent and 3.7 per cent respectively.
The trust with the single lowest performance – on type one and overall four-hour performance – was Hillingdon Hospitals Foundation Trust in north west London.
The district general hospital saw a type one performance of just 52.7 per cent. The trust had seen a 16.5 per cent rise in attendances.
Next worst was neighbouring London North West Healthcare Trust, which operates two A&E units, with 55.7 per cent. This fall on 15 percentage points was against a more modest increase in attendances, in line with the national average.
However, the region with the steepest decline in performance compared with the previous year was the East of England.
Three trusts in Cambridgeshire were in the top 10 biggest declines from December 2015 to December 2016, in spite of attendances staying broadly flat.
They were: Peterborough and Stamford Hospitals Foundation Trust; Hinchingbrooke Health Care Trust; and Cambridge University Hospitals Foundation Trust.
A spokeswoman for NHS Improvement's Midlands and East team said: "Trusts in this area have been affected by discharge delays. We are working with the trusts and other sector partners – including social care - to find solutions and rapidly improve the situation for patients in the area."
NHS sources have suggested that the performance for January (due to be released next month) will be worse.
National NHS leaders are understood to be working on a new suite of measures for A&E performance that it hopes will be more focussed on patient safety – although patient safety experts agree that overcrowded A&Es and trolley waits are associated with poorer patient care.
NHS Providers chief executive Chris Hopson said: "These figures for December reflect the enormous pressures on the health service as winter started to take hold. It is worrying that although more patients are being treated, growing numbers of people face delays. This is the first time that performance against the four hour target for major hospital A&Es has dipped below 80 per cent.
"Delayed discharges are close to record levels. We have seen powerful coverage in the media this week of the difficulties and distress this causes to patients, their families and carers, because of delays in securing appropriate social care after hospital treatment. These types of delays have risen by more than 40 per cent in the last year.
"We should not lose sight of how NHS staff have managed to cope in the face of enormous pressure. A&E attendances [for all types] increased by more than 4 per cent compared with the previous December, calls to ambulance services rose by 13 per cent, and the number of diagnostic tests carried out was up by 7.4 per cent. The health service is doing more for more people than ever before. But despite its best efforts, it cannot keep pace with the additional demands that are being placed on it. That is why we need an urgent review of how the NHS manages winter pressures so that improvements can be made for patients, as well as staff, next winter."
Chair of the British Medical Association council Mark Porter said: "The NHS is doing more work than ever but remains underfunded for the work that it is called to do. Our members, working doctors, tell us that this winter period has been extraordinarily tough in our hospitals.
"When social care isn't available, patients experience delays in moving from hospital to appropriate ongoing care settings – preventing patients being admitted at the front end in A&E. These trolley waits are a desperate sign of a system under too much pressure."