The number of patients waiting more than four hours in emergency departments for a bed to become available has rocketed in the past year, HSJ analysis reveals.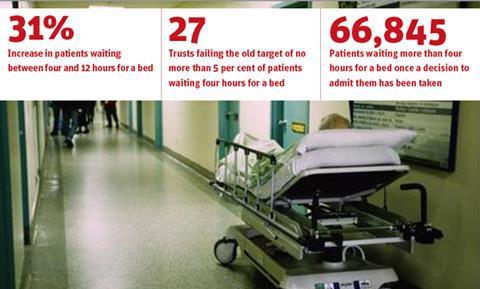 In the first six months of 2012, 66,845 patients waited between four and 12 hours for a bed once a decision had been taken to admit them, according to Department of Health data. This is up from 50,944 in the same period the previous year - a 31 per cent rise.
Many of these patients are likely to have been "boarded" in accident and emergency departments, often waiting on trolleys in corridors or other inappropriate areas - something seen as a major patient safety issue.
The main A&E performance measure currently used by the DH and Monitor requires trusts to admit or discharge 95 per cent of A&E patients within four hours.
HSJ assessed trusts using the old "trolley wait" target used by the government in the early 2000s. Trusts were judged to have failed if 5 per cent or more of all non-elective admissions waited more than four hours for a bed.
Under this measure, 27 of the 146 trusts analysed under-achieved during the first six months of 2012, up from 14 in the same period in 2011. A change in how the DH publishes A&E performance data halfway through 2011-12 prevents full year-on-year comparison.
College of Emergency Medicine president Mike Clancy told HSJ the rise in patients waiting longer for a bed was a reflection of the pressure on hospital bed stock. He said: "It's a high pressure system and small changes in demand make a big change in waiting. We are asking wards to handle more patients faster.
"There is quite clear evidence that with overcrowding goes increased mortality and morbidity. There is a real patient safety issue."
He said anecdotal evidence suggested attendances were increasing at times of the day when staff numbers were lower, with many more people coming in at evenings and weekends.
A spokeswoman for Surrey and Sussex Healthcare, which had the highest proportion of patients waiting for four hours or more over the period, said performance had recently improved. She said the trust was refurbishing its A&E to increase capacity, had added 40 beds in new wards and recruited more consultants.
This had already led to an improvement with 99.4 per cent of patients seen within four hours in the week ending 20 May.
A change in patterns of demand was one of the factors behind a doubling in the number of patients waiting more than four hours for a bed at Northampton General Hospital.
Its chief operating officer Christine Allen told HSJ the trust had in May completed a refurbishment of its emergency department to increase capacity, recruited more staff and matched staffing to the times of day with most demand.
She said: "We have done all we can in terms of creating capacity but what we now need to do is work with our commissioners to improve the urgent care pathway from primary care right through to discharge from hospital."
Tim Curry, assistant head of UK nursing at the Royal College of Nursing, blamed the increase on a "perfect storm" of rising patient expectations, financial pressure in the acute sector and distracting restructures and reforms.
He said while it could sometimes be appropriate for patients to be managed in A&E, for example if they are usually fit and waiting for diagnostic tests, the scale of the increase was concerning.
He added: "Trolleys are hard laminate board with a mattress two inches thick. If you're 85, with vascular problems, 30 minutes is more than enough."
A spokeswoman for Wye Valley Trust, which has a high proportion of patients waiting more than four hours for a bed, said its figures had been affected by the introduction of a clinical decisions unit.
This had increased the number of patients managed in A&E without going onto a ward while also reducing overall length of stay for some conditions.
National clinical director for urgent and emergency care Matthew Cooke told HSJ this kind of change in practice, along with changes in patterns of demand, such as more patients presenting in the evenings and at weekends, was likely to be driving the trend.
"I think that's a societal issue. People used to hang on until Monday morning but now they are coming on Sundays," he said. "We have to keep working to make sure our staffing levels match the demand."