The strategy to combat the rise of E. coli is admirable but is it achievable without joined-up action across the health and care system, ask Holly Gray and John Illingworth
While the Government has justifiably been keen to trumpet progress in reducing MRSA and C. difficile (CDI) infections in recent years, behind this good news there has also been a steady and worrying rise in E. coli bloodstream infections. And the latest figures from Public Health England, analysed today by HSJ, show a further 6.7 per cent increase in the 12 months to January 2017.
So it was welcome to see the government announce a new plan at the end of 2016 to combat the rise in E. coli rates, including a target to halve the number of these infections by 2020.
But with so much of the government's announcement focused on hospitals, despite data suggesting a majority of E.coli infections are acquired in the community, there must be real questions over whether the target will be achievable without more emphasis on joined-up action across the whole health and care system.
The new war on bugs
In 2007/08 rates of MRSA and CDI in England were at concerning levels: 8.6 and 107.6 per 100,000 population, respectively. So the then government laid out plans to tackle these life-threatening infections, including mandatory reporting of cases, the Clean Your Hands campaign and changes to the type of antibiotics older people were prescribed. In the years since, rates of MRSA and CDI have fallen substantially, to 1.5 and 26.0 per 100,000 population, respectively, in 2015/16 (see Figure 1).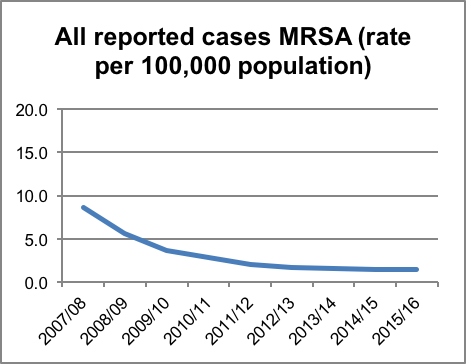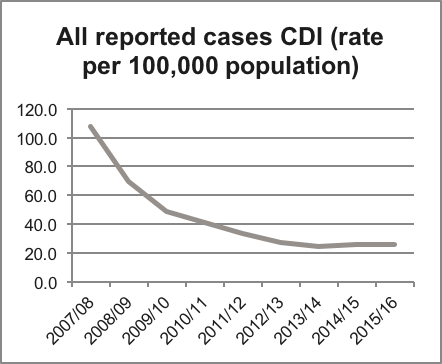 Towards the end of 2016, the government announced a new effort to reduce infections, this time focusing on E. coli. Most of the time E. coli bacteria live harmlessly in our digestive system, but they can also cause serious bloodstream infections that can be life threatening. According to the Department of Health, E. coli killed over 5,500 people in England last year, and from 2012/13 to 2015/16 rates have risen from 60 to 70 cases per 100,000 population (see Figure 3).
The new plans include a target to halve the number of E. coli bloodstream infections (and those from other similar bacteria like Klebsiella pneumoniae) by 2020, an admirable goal.
As part of this, the government announced a new package of measures, including cash incentives for hospitals making the most progress, requirements to publish safety indicators such as metrics of staff hand hygiene and E. coli rates, requirements to display recent trends in wards for staff, patients and families to see, and the appointment of a new national infection lead.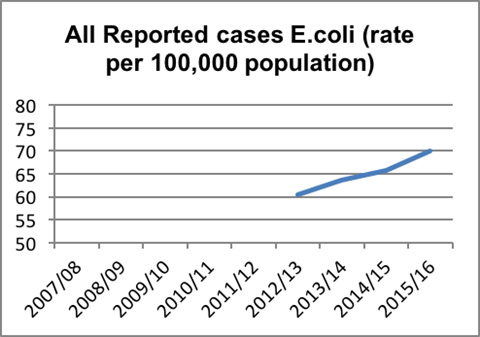 These plans echo those implemented a decade ago. However, it is worth noting that we don't know which of those earlier actions were most effective at contributing to the reductions in MRSA and CDI due to the complexity of transmission and the fact that many different interventions were introduced at the same time.
The need for whole system thinking
A second, perhaps more important issue with these new plans is the emphasis on hospital action and the apparent limited focus on what can be done in the community to tackle E. coli. If an E. coli bloodstream infection occurs within two days of a hospital admission, it is considered likely that the infection started in the community, and government data shows that this is the case for around 70 per cent of E. coli cases. Indeed, as Figure 4 illustrates, it is infections diagnosed within two days of admission that are driving overall rates up.
According to the Advisory Committee on Antimicrobial Resistance and Healthcare Associated Infection, most reported E. coli infections arise from inappropriate antibiotic treatment for repeated urinary tract infections (UTIs) and dehydration, rather than from hospital-related causes such as improper urinary catheterisation practices.
Given that the majority of E. coli cases appear to be acquired outside secondary care, reducing overall infection rates will require a broad range of measures reaching into the community as well as hospitals. As stated in a recent report published by the Health Foundation, Infection Prevention and Control: Lessons from Acute Care in England, "to truly address infection prevention and antimicrobial resistance, action must not be confined within the walls of a hospital". Relevant measures here could include better prevention of UTIs through optimal hydration, to avoid the need for antibiotics, and stressing the importance of appropriate and timely prescribing of antibiotics when necessary.
There are lessons to be learned here from initiatives such as the Scottish Antimicrobial Prescribing Group. The group aims to coordinate and deliver a national framework for improved antimicrobial prescribing to support the overall aim of reducing rates of CDI in Scotland, and as part of this they have developed prescribing indicators for use in primary care facilities as well as in hospitals.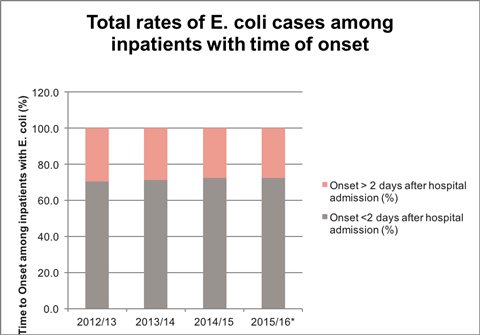 Improved antibiotic prescribing, along with community-wide "deep cleaning" efforts, have contributed to a substantial reduction in CDI cases in Scotland, with all NHS boards exceeding the original target of a 30 per cent reduction.
So while hospital-focused efforts are clearly important in preventing and reducing hospital-acquired infections, in terms of overall infection rates there will be big gains to be reaped from making improvements across the community.
Whole-system thinking – the importance of which was highlighted in our recent Health Foundation report on the challenge and potential of whole-system flow – will be vital to making progress on the Government's new target and ensuring this new initiative translates into a significant decline in E. coli cases.
To its credit, NHS Improvement has indicated it will be encouraging organisations to work together to reduce infections across organisational boundaries, but the risk remains that if the government is focused on hospital action at the expense of wider system initiatives then much of the system's energy will end up getting focused there too.
Bugs aren't confined within hospital walls, and efforts to tackle them shouldn't be either.
Holly Gray is an improvement intern and John Illingworth an improvement fellow at the Health Foundation.
Analysis: Over 100 trusts report rise in E coli infections in a year
1

2

Currently reading

De-bugging the system: the government's new push to tackle E. coli infections