Essential insight into NHS matters in the North West of England, with a particular focus on the devolution project in Greater Manchester. Contact me in confidence here.
In this edition:
Lancashire's leaders in talks with HEE over new medical degree
Former Wigan chief calls for new approach to sorting out Greater Manchester's A&E problems
Was 'Devo Manc' a success – Part 3
Earn and learn
A few years ago, some residential streets in Blackburn were used as a filming location for '71, a thriller about a British soldier sent over to Northern Ireland at the height of the troubles.
The relatively low budget meant the production company had to find a location that could easily resemble the streets of Belfast in the early 1970s, with little set-dressing required.
Their choice showed just how far Blackburn had fallen — from a booming cotton town riding the wave of industrialisation, to tens of thousands of jobs being lost and its streets now doing a good impression of a war-torn Belfast.
It's not just Blackburn. According to Lancashire County Council, the demise of the textile industry right across the county was so extensive that it's "probable that there are very few geographical areas of such a size that have ever undergone the contraction of its single basic industry on such a scale".
It's no surprise then that most educated young people are quick to leave for the nearby brighter lights of Manchester and Liverpool.
This has an effect right across the economy, including the NHS, where recruitment has become ever more difficult.
Lancashire's health leaders understand this only too well and are trying to do something about it, but they have limited levers to pull.
A couple of years ago, the integrated care system cobbled together funding to create 10 medical training places targeted at local students of a social background or education that would not typically consider a medical career.
Amanda Doyle, the ICS lead and a GP in Blackpool, told me the places have all been taken up by students who are the first in their family to go to university, and they're all doing well.
But national funding for this sort of initiative has been extremely scarce, and the ICS has been unable to secure further investment to expand the programme (the Budget on Wednesday will be closely watched for a proper settlement for Health Education England's training funds).
Now the ICS is in talks with HEE to create a new part-time "earn and learn" degree course at the University of Central Lancashire. This is something that's worked successfully in Scotland, and would enable staff such as pharmacists, allied health professionals or health care assistants to train as a doctor, while staying in their current role (as opposed to a fast-track full time training scheme which has been floated nationally).
This would make the training more accessible in terms of costs, while Dr Doyle believes it would also "keep people embedded in a relationship with our local providers so they're much more likely to stay at the end of the day [after training]".
HEE cautioned that discussions are still at an "early stage", but said the approach had the potential to "substantially increase access to medical education".
Greater Manchester
Greater Manchester's devolution leaders have reaffirmed their commitment to sorting out the region's accident and emergency problem, after their former chief officer suggested it had got too much attention.
The region has been going through a difficult period of introspection over its performance against the four-hour target, and there was a noteworthy observation last week from Andrew Foster, the recently departed chief executive of Wrightington, Wigan and Leigh Foundation Trust.
Mr Foster wrote beneath this article: "On A&E, the issue is not WHETHER the GM authority should give it enough attention, it is HOW it does so.
"For some years there has been an approach of issuing commands and instructions from one group of people with little experience in managing unscheduled care to another group of people with lots of experience. It was not surprising that this did not help or motivate and was unsuccessful.
"There is an alternative approach which consists of providing analysis, support, peer review, encouragement, innovation, sharing of best practice and facilitation of system-wide discussions. This fits much better with the integrated governance arrangements in GM and is much more likely to produce beneficial results."
Those sentiments will be shared by many within the region's acute trusts and are likely to bring a change in approach. But will it make any difference?
Was Devo Manc a success? Part 3
In a series of editions, NxNW is attempting to quantify how much progress has been made by Greater Manchester's devolution programme.
The first looked at population health indicators for babies and young children, while the second focussed on older children and young people. There were signs of modest but positive trends in both areas.
For this third instalment, I looked at several population health measures for adults.
But even more than with the previous editions, it was difficult to find relevant, comparable and up-to-date statistics, with which we could draw links with GM's investments.
The charts below (if you're reading this in the email then click 'download pictures') measure employment rates, smoking, levels of physical activity, and alcohol abuse. These are themes that have all featured in GM's planning documents and strategies, but where specific regional investments have been made, they haven't been in place for long enough to have made an impact.
They may have benefitted from local investment, however, as more than half the region's transformation fund was distributed to the 10 boroughs (which is proving tricky to breakdown). They also offer a useful comparison or counterpoint to measures which have had specific region-wide investment. Admittedly though, a look at these measures in a few years' time, along with others such as life expectancy, will be far more instructive.
Smoking
The overall trend on smoking rates is positive for GM, with the gap significantly narrowed against the national average. The region will be hoping for a steeper dip following £3m of investment in smoking cessation that started to kicking in midway through 2018-19.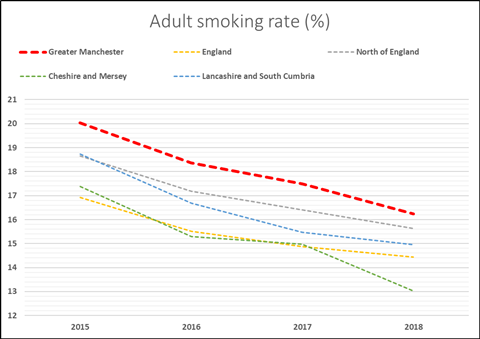 Source: Public Health England. Smoking prevalence among adults. Data for 2019 not yet available.
Employment
Employment is mentioned 21 times in the devolution plan published in 2015, due to its link to overall health and wellbeing.
The main region-wide investment, in programmes focussed on helping people who have been on long-term sickness leave back to work, only came on stream in April 2019, so will not yet have impacted the data below, which shows the overall employment rate (we couldn't find comparable data for helping people back to work). Something seems to be going very right in Liverpool, though.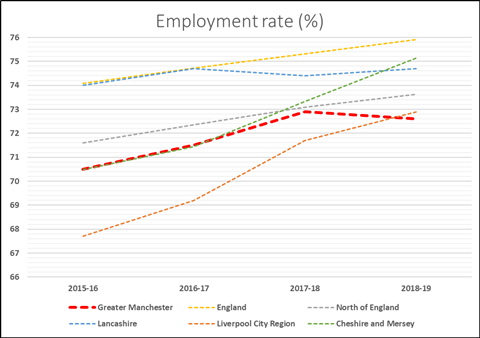 Source: Office for National Statistics. Employment rate for ages 16 to 64.
Physical activity
Major investment has been agreed in this area, with £2m of GM-wide funding coupled with a £10m investment by Sport England, as part of a pilot project. But this only started coming on stream in 2018-19, so will have had limited impact on the data below.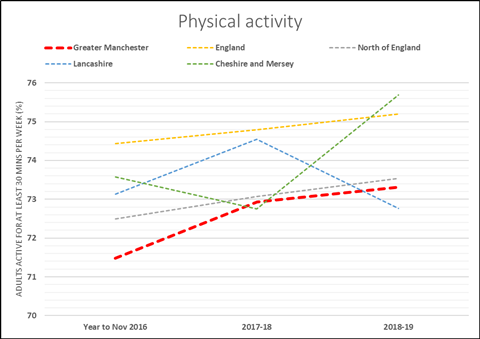 Source: Sport England. Data collected in three time periods; the year to November 2016; the year to May 2018; and the year to May 2019. Adults physically active for at least 30 mins per week.
Alcohol abuse
This is an area where specific region-wide investment have yet to come on stream. A GM drugs and alcohol strategy was agreed in March 2019, so the impact of this will not be seen in the data below.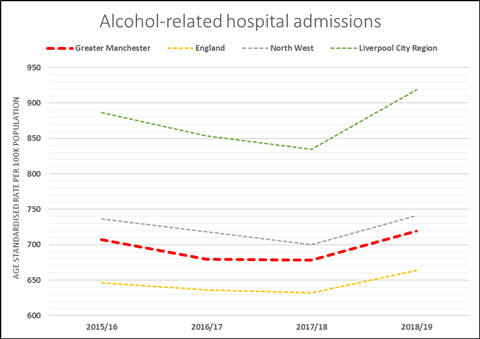 Source: Public Health England. Hospital admissions for alcohol related conditions (narrow definition).
Updated: This story was updated at 9:35 on 10 March to correct a typo.