There are 70 per cent more people in hospital now as when England was approaching its spring covid-19 peak, and twice as many non-covid patients, according to official figures leaked to HSJ.
In some regions, the contrast is even sharper. In the North East and Yorkshire, where covid-19 hospitalisations are still mounting rapidly, there are now twice as many patients in acute hospitals than there were in early April.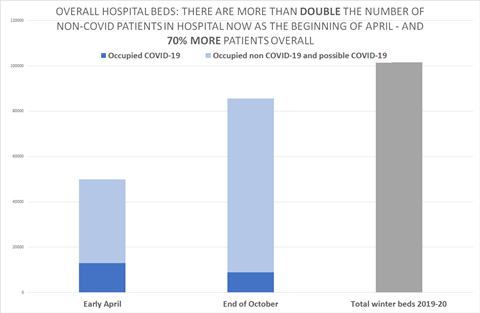 The information also shows that there are now 13 per cent more patients than there were on 3 April in mechanical ventilation beds – which are reserved for the most seriously ill patients. These include more than double the number of non-covid patients than there were in the spring.
The information — shared with HSJ and the Independent by NHS sources — also reveals that one in 10 hospital beds are now occupied by confirmed covid patients – up from about 6 per cent two weeks ago.
Late March saw a national cancellation of most planned care, large reductions in emergency admissions, and a huge programme to discharge patients home or to care homes.
The NHS is now trying to maintain planned care where possible. Emergency activity has so far not significantly dipped this time and winter will keep it higher. There are also indications that it has become harder to discharge patients from hospital than it was in April.
These factors are resulting in hospitals being under significantly more pressure than in the spring, despite having many fewer covid-19 patients.
A senior critical care doctor in a part of England heavily hit by the second covid wave said: "The real problem is the balance between the covid load and 'normal' activity.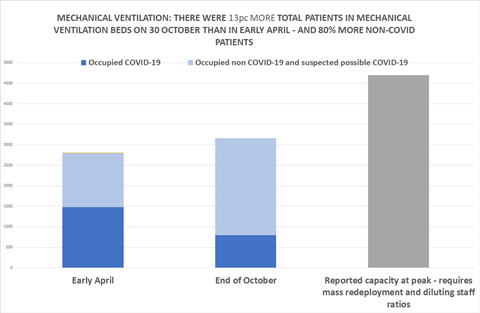 "Last time… lockdown reduced trauma and other population behaviour related presentations. But [this time] they are all still here, especially on critical care."
One hospital director said covid infection control measures – such as splitting out covid positive, negative and unknown patients – "means that we just can't operate at the occupancy levels that we did previously". To maintain emergency department flow they now needed to keep occupancy to around 75 per cent, that source said, rather than 95 per cent previously.
Figures shared with HSJ by sources suggest substantial non-covid care is already beginning to be displaced by the impact of the second wave.
The number of unoccupied beds is reducing, but so is the number of beds occupied by non-covid cases, in both critical care and general beds. This is mainly because of the growing number of cancellations of planned operations, which has now taken place at several trusts in the north and Midlands.
Nationally acute trust occupancy is 84 per cent as of 2 November. Confirmed covid cases occupy 10 per cent of beds.
But some regions and trusts have substantially higher total bed occupancy.
In South Yorkshire and Bassetlaw, where hospitals have seen very rapid growth in covid cases in recent weeks, bed occupancy is 91 per cent – a level typical of normal winters in the NHS. In Greater Manchester it is 90 per cent.
An NHS England spokeswoman said: "NHS doctors and nurses in many areas of England are now treating more COVID-19 patients than at the peak of the first wave and the key to sustaining services is ensuring rising coronavirus admissions don't displace other care, as is currently happening in some French, German and Dutch hospitals, as well as parts of the North West and Midlands.
"Hospitals have used the opportunity over the summer since the first covid wave both to prepare for winter and to ramp up routine operations, screening and other services, and GPs are now providing more appointments than this time last year."
*Reporting of hospital occupancy to NHS England was inconsistent in early April. The April figures are based on triangulating official sources.
Updated on 3 November at 9am to add comment received from NHSE.
HSJ Value Awards
The HSJ Value Awards help raise the bar in healthcare delivery by celebrating the projects and teams driving operational, financial and clinical improvements across the health system. Showcase your influence and expertise in delivering performance improvements by entering the Operations and Performance Initiative of the Year category. If your initiative is changing the lives of patients and staff for the better, our judges want to hear about it! Give your team the thanks and recognition they deserve, and take part in the only awards programme focused on driving clinical, operational and financial value across the health system. Entries close on 26th November.
Register your interest