NHS Improvement letter tells trusts to "cease most inpatient elective activity"
Move could involve rescheduling planned care "beyond any current plans"
Trusts asked to cut bed occupancy from 95 per cent to 85 per cent for the next month
Hospitals should focus on emergency activity over Christmas period
Acute trusts have been told to "cease most inpatient elective activity" over Christmas and significantly reduce bed occupancy, to free up capacity and try to avoid further deterioration in emergency care.
A letter sent to trusts from NHS Improvement asks all acute providers to aim to cut their general and acute bed occupancy to 85 per cent from 19 December to 16 January.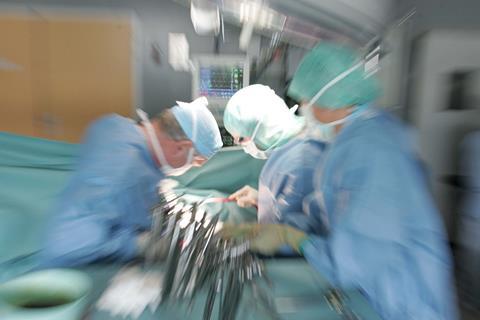 This could involve "the rescheduling of elective work beyond any current plans", the letter says.
The most recent data from NHS England shows bed occupancy is currently around 95 per cent, and was at a similar level a year ago.
It comes as a Nuffield Trust report, published today, says pressures on hospitals are risking patient safety.
The NHS Improvement letter is dated 9 December and was sent on behalf of chief executive Jim Mackey and the national accident and emergency improvement board. It says: "In preparing for managing winter pressures, it is recommended that all providers 'pace' their elective work by introducing elective breaks where trusts cease most in patient elective activity and focus on treating emergency activity and non-admitted patients."
"Optimising" elements of elective care in the lead up to Christmas will enable trusts to keep up a "sustainable level of throughput" while dealing with increased hospital activity due to winter pressures, the letter says.
"Given the level of risk facing the system, it is clear that having sufficient bed capacity going into Christmas is critical, and we know most organisations will already have this in hand as part of local planning arrangements."
Cutting occupancy rates to 85 per cent from 19 December to 16 January "will enable providers to accommodate anticipated increases in non-elective demand during this period and to maintain that position for as long as is practical focusing on admission avoidance".
Day cases should continue as normal. The restart of elective activity should be "on a phased basis" and, for trusts in segments three and four of NHS Improvement's oversight framework, with the support of regional directors.
"As part of this work, we expect patient cancellations to be kept to an absolute minimum," the letter adds.
Meanwhile, commissioners should ensure there is primary care access every day of the extended Christmas bank holiday period, along with mental health crisis and intervention services.
NHS Providers chief executive Chris Hopson said: "This guidance does go further than before – for example in specifying a target bed occupancy level as the holiday period starts – but it's in line with direction of travel over the last few years, prioritising emergency over elective work for the holiday period.
"Many trust chief executives tell us they were already planning along these lines but this is a helpful prompt to ensure the work is completed to time and quality.
"It is, though, another classic illustration of how trusts are now caught between a rock and a hard place. The rock of coping with ever rising emergency demand and the hard place of meeting the referral to treatment elective surgery target and financial control totals where elective income is key. Trusts chief executives tell us it's increasingly difficult to deliver both."
Nuffield Trust chief economist John Appleby said bed occupancy rates of 95 per cent were "linked to higher infection rates and longer waits in A&E".
As a result, winter pressures "pose a real threat to the smooth running of hospitals and, ultimately, to patient safety".
"What's more, the NHS is going into this winter in an even worse position than it was a year ago, with record deficits, worse performance against the A&E target, far more trolley waits, record delayed discharges from hospital, and fewer people getting the help they need with social care. When you add into that mix the sort of intense pressure on beds we've demonstrated hospitals experienced last winter, patients' care is bound to suffer," he said.
An NHS Improvement spokesman said: "NHS providers will be doing all they can to make sure their patients are able to receive quality care during the busy Christmas period. A reduction of elective hospital activity in the run up to Christmas is standard practice, and well-rehearsed by NHS providers. Many hospital trusts also routinely wind down elective activities in the run up to the Christmas and New Year period, as patients do not wish to be in hospital over the festive period and those who are medically fit for discharge want to return home. This also frees additional capacity.
"Cancellations should be kept to an absolute minimum and, in trusts where elective work does need restricting, then the decisions should always be taken using appropriate clinical reviews to ensure patient needs are met."