Being admitted to hospital a few hours later in the day often means patients spending several days longer on wards, according to new analysis shared with HSJ.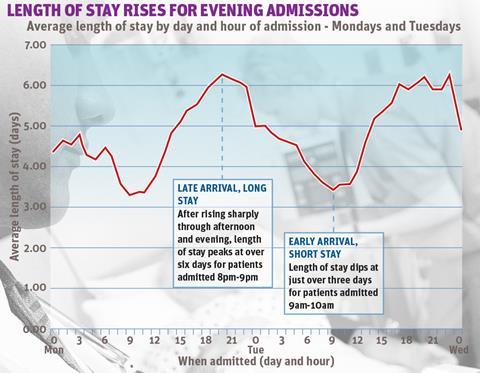 Length of stay rises after evening admission
The dramatic variation is the main finding of research by a team of NHS analysts who specialise in emergency hospital care.
The current major national initiative to extend NHS working hours has largely focused on the weekend. However, the work by a Manchester-based team in the Greater Manchester Commissioning Support Unit suggests changing working practices on weekdays could have more impact in reducing the amount of time spent in hospital.
It found patients' average length of stay varied dramatically depending on what time of the day they were admitted (see graph, above).
The average length of stay is shortest for admissions at 9am-10am, at around 3.25 days, its analysis shows. It increases sharply through the afternoon and by 6pm is around 5.5 days. Average length of stay peaks for admissions around 9pm, at around 6.25 days.
The researchers said the most likely explanation for the variation was the greater presence of medical consultants earlier in the day. There is usually less senior medical cover in the evening and night, with more junior doctors having a more significant role.
Patients admitted early in the day have a greater chance of having a care plan drawn up by a consultant, the analysts said.
Diagnostic tests are also more likely to be available on the same day, while junior doctors – who have more responsibility later in the day – are more likely to seek tests than consultants. This can cause further delay to patients being discharged.
The Manchester team's analysis found the difference in length of stay between days of the week was much smaller, with an average variation of only a quarter of a day.
It analysed data from 14 English and four Northern Irish hospitals covering 3.5m accident and emergency attendances and 866,000 emergency admissions between 2011-13.
Seamus McGirr, director of clinical development at the CSU and director of the North West Utilisation Management Unit, said the findings suggested changing working hours and clinical shifts could reduce hospital bed days.
He told HSJ: "If hospitals really want to target reducing occupied bed days they need to look [at providing] a full 18 hours a day service so that regardless what time of day patients arrive they get access to same day diagnostics and the senior opinion needed to act on those tests. By doing this it is possible to take two or three days off the length of stay."
The analysis has also been reviewed by the NHS Emergency Care Intensive Support Team, a national unit which works to improve emergency care performance. Its director Russell Emery said: "The problem is that the availability of consultants and supporting services generally diminishes during the evening, certainly from around 7pm." It was "fundamental for patients to see a senior clinical decision maker as early as possible in their hospital stay", he said.
Heart of England Foundation Trust associate medical director Matthew Cooke, the former Department of Health national clinical director of emergency care, said the "magnitude" of the variation in length of stay found by the research was surprising.
He indicated it was possible the variation was caused in part by "sicker people coming in the evening and overnight", and that the patterns should be examined more closely.
Professor Cooke said: "At the front end in the assessment units in A&E we know that junior doctors order more tests [and] they're also more reluctant to discharge."
Nuffield Trust chief executive Nigel Edwards said the findings indicated hospitals began to struggle as the number of available beds fell through the day. "What [it] seems to suggest to me is the general organisation and management of the admissions process starts going downhill as pressure mounts," Mr Edwards added.
He said the situation may be exacerbated for A&E patients because of the four-hour waiting time target. This could result in patients being admitted within four hours then staying for longer than necessary. "In the worst circumstances if you'd had another two hours in A&E you might have been able to go home whereas now you're in a bed and you stay a day or more," he said.
Professor Terence Stephenson Chairman of the Academy of Medical Royal Colleges said: "Findings that link the time of admission with the overall length of stay come as no great surprise. There are likely to be a mixture of reasons for this with no single issue as the cause. However the conclusion that this relates, in part, to the availability of senior doctors is equally unsurprising.

"This is the same concern that has driven the Academy's well publicised work on the importance of seven day consultant present care. It would seem that the issues to which we drew attention in relation to admissions at weekend may also apply in terms of the time of admission."
NHS England deputy director of quality frameworks Simon Bennett, who works on the organisation's seven-day services forum, said that although the first stage of its work, during 2013-14, "didn't look at the time of admission, this finding is in line with [its] view that the likelihood of patients being 'turned around' promptly and efficiently is related to the presence of senior decision makers, who are more likely to put patients on the right care pathway, first time, and to initiate appropriate tests and investigations promptly".
He said: "The clinical standards developed by [NHS England's seven-day services] forum, which include time to first consultant review and access to diagnostics services, apply 24 hours a day, seven days a week."
Full details of the Greater Manchester Commissioning Support Unit analysis will appear on HSJ.co.uk in coming days.