Emergency performance in London has declined sharply since mid August, and has now fallen to a level not normally seen until December, a leaked report shows.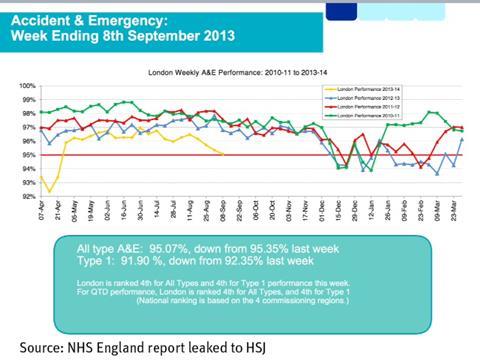 A&E week end 8th sept 13
HSJ has been sent a copy of NHS England's latest weekly figures showing the capital's combined performance against the four hour accident and emergency waiting time target.
The report says that across the capital, 95.07 per cent of patients waited four hours or less to be admitted or discharged in the week ending 8 September.
The figure was down from 95.35 per cent a week earlier. Comparison with the previous three years shows performance in London as a whole is normally between 96 and 98 per cent at this time of year, and does not normally dip to 95 per cent until well into December.
While the latest figures mean that the overall performance against the national target of 95 per cent of patients admitted or discharged within four hours was met, the figure hides variation between London providers.
For instance, "type one" providers – those operating full A&E units – are already well below target at 91.9 per cent, and have dropped faster than the overall figure.
The report also says London is the worst performing region in England, both this week and for the quarter to date. The ranking applies for both overall and for type one performance.
Michelle Drage, chief executive of Londonwide Local Medical Committees, said the capital's difficulties were rooted in its population, which was more diverse, more mobile, and growing faster than that of other regions.
She said she feared that £55m allocated to London from the government's winter pressures fund would be spent on short-term solutions such as locums to deal with more patients, rather than on transforming services.
"We've not had any epidemics this year, we've not had premature flu demand, but we've got chronic staffing problems, we don't have enough consultants and we know we haven't got sufficiently capable primary care," she said.
"Whatever you throw at this perceived problem, you're actually not singling out the fundamental concerns, which is our primary care and community care and social care systems have not been sufficiently nurtured over the past 15 years to manage the demand.
"To turn this around it needs a major whole system review and upgrade of primary care."
An NHS England spokesman said the data was unvalidated, and added that despite poor recent performance, London was on a par with the rest of the country over the year to date.
The spokesman said: "The current urgent and emergency care system is unsustainable in the medium/long term and that we need 'whole system' change.
"There is no one reason why some acute trusts have not met the standard in the last 4 weeks. Overall, A&E attendances are lower across London but this masks local variations where activity has increased."