Royal College of Emergency Medicine in "early discussions" with Jeremy Hunt about long term A&E plan
News comes as May forced to reject Red Cross accusation that NHS is facing "humanitarian crisis"
College says new model would save cash long term by slashing NHS's £700m ED locum bill
Senior figures warn pressure on A&E is "unprecedented and unsustainable"
Ministers are in "early discussions" with senior medics about investing significant upfront funding in a new plan to address the long term "crisis" engulfing NHS emergency departments, HSJ has learned.
The news comes with pressure intensifying on the government to provide more resource for struggling hospitals and prime minister Theresa May being forced on Sunday to deny the suggestion by the British Red Cross that the NHS was facing a "humanitarian crisis" (see box below).
The Royal College of Emergency Medicine's president Taj Hassan told HSJ nothing had been agreed, but that the college was "in early discussions" with the health secretary Jeremy Hunt, about a funding package. The news comes amid growing calls, including from Labour, for a new funding injection for the NHS.
The Department of Health stressed to HSJ there would be no "further funding this year", although it did not comment on future years.
Dr Hassan warned the plans, yet to be fully costed, could take "three to four years" to fully implement and require significant funding, but said that without a new plan the system would remain in crisis. A key part would be a new staffing model which he said would save money in the long term because it would slash the NHS's nearly £700m emergency department locum bill.
Dr Hassan said: "We are hoping to provide more detailed guidance on the model of staffing a big, mid-sized, and small/rural system should have. Then we want to compare that to where we are, and describe the pathway to say what is an appropriate staffing model.
"That would require money. We are proposing there is a new, dedicated emergency care transformation fund run over three to four years that could address the staffing issues. That could be funded by the ED locum spend, which is around £692m. We could reduce that very significantly in three to four years' time."
He said staffing was the main issue and that as well as the number of staff, the model needed to account for the high intensity of work in an A&E, which means staff require more recuperation time than other areas. HSJ understands full plans will be submitted in coming weeks.
Dr Hassan's comments come at a point of very high concern about pressure in emergency care. Nick Hulme, chief executive of Colchester and Ipswich hospital trusts, told HSJ: "It's unprecedented. I've not seen anything like this in 37 years in the health service. There is always a hangover from Christmas and new year but this has been absolutely relentless [in demand and acuity of patients]."
Another senior NHS manager said: "It's absolutely bloody carnage. I have never seen it this bad."
Dr Hassan added: "Going into winter we were in the worst prepared position that we have ever been… in terms of existing performance and the amount of intended investment, [with] the existing staffing levels in emergency departments and the social care crisis clearly identified as major issues.
"Both the NHS England data and our winter flow project is identifying that performance is down to mid-70 per cent. Anything below 75 per cent and you are at a higher risk of unsafe practices. So if 20 to 25 per cent of departments are below 75 per cent performance… then they are so overcrowded as to be at times unsafe and we need to do something about that."
May rejects 'humanitarian crisis' claim by Red Cross

Ms May told Sky's Sophy Ridge on Sunday yesterday: "I don't accept the description the Red Cross has made of this. Yes, there are huge pressures on the NHS, but I think, first of all, we should thank all those dedicated professionals in the NHS who have been working so hard over what is always a difficult period in terms of the number of people using the NHS, that's the Christmas and New Year period.
"There are pressures in the NHS, as we see those pressures, we have an aging population, this brings pressures particularly in the interface between the health service and social care…that's why we have taken some immediate steps in relation to that issue…and [we are] looking for a long term solution to what has been a problem that has been ducked by governments over the years."
In the short term he said trusts and commissioners needed to work together to reduce delayed discharges, which were the "number one cause nationally for departments not meeting [the four hour target]".
He also advocated more colocation of services, such as putting GPs in emergency departments, to address the increase in people with "minor ailments" presenting at A&E.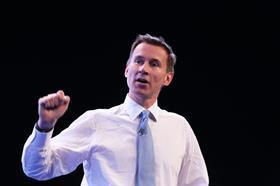 However, he said proposals in sustainability and transformation plans to cut beds and suggestions emergency departments needed closing were "extremely concerning and there is no way we will deliver on that".
He added: "We would want clarity from STPs [which are reconfiguring emergency care] about whether they have applied good principles, and have good modelling, what the impact will be on neighbouring systems and whether patients will have the level of support they deserve.
"The three big things causing distress [to A&E] are: one, there is not enough social care funding; two, there are not enough acute beds; and three we do not have adequate staffing or staffing strategy."
Dr Hassan, who is also seconded part-time to NHS Improvement, defended the need for the four hour target, which he helped create, to remain a key priority in light of proposals for a broader performance metric which is under development.
He said: "The four hour standard is absolutely embedded in the NHS constitution. If we want to deliver a second or third rate service, then we should get rid of the four hour standard. If you fix the other issues, the four hour standard will come back."
He said he supported plans for the broader metric being developed by NHS Improvement.
A DH spokeswoman said the department would not comment on a "private meeting" between the health secretary and Dr Hassan.
UPDATED at 10:15am on 9 January: This story was updated to reflect a new comment from the DH provided on 9 January which said that there would be no further funding "this year".