Fifty four providers confirm they have not yet had fire tests demanded by NHS Improvement in the summer
Trusts with cladding were prioritised for support but other problems remain unaddressed
Inspectors find materials stored in escape routes and examine compartmentalisation
More than 50 NHS trusts have confirmed they have not had a fire service inspection since the Grenfell Tower disaster – despite all providers being ordered to arrange them just days after the fire.
An HSJ investigation has found that many trusts were told their local fire and rescue services were too busy dealing with higher priority cases to inspect all inpatient facilities, as NHS Improvement had asked to happen following the fire on 14 June.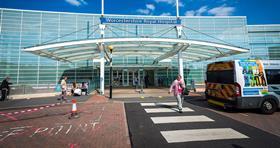 As a result, at least 54 trusts and foundation trusts have still not had fire safety checks, months after the Grenfell fire.
Although trusts whose buildings had cladding like that used on Grenfell Tower have been prioritised for support by NHSI, HSJ has identified several trusts with other types of fire risks that are yet to be fixed.
HSJ sent a freedom of information request to all acute, specialist, mental health and community trusts in England at the end of August asking them if they had complied with the NHSI request and been inspected by the fire service.
Of the 172 that replied, only 95 trusts clearly confirmed that they have had a fire service inspection, while a further five had been partially inspected. Three had no inpatient facilities and would not have been required to comply.
Of the others, 54 providers said they had not been inspected, while others gave unclear answers or refused to release the information.
An NHSI spokesman said: "The safety of patients and staff is our top priority. We have supported all trusts that have similar cladding to Grenfell Tower to implement extra safety measures until the appropriate remedial action is taken.
"We have asked the remaining trusts to continue to liaise with their local fire service crews to organise suitable inspections of inpatient areas and asked them to be mindful of competing demands for local fire services resources."
There were 38 trusts NHSI deemed as higher priority because of concerns about cladding. The regulator said all of those had been inspected.
Many other trusts said they had approached their local fire service but it did not have the capacity to carry out immediate inspections or viewed the trust's buildings as lower risk. In some cases, there were telephone discussions about NHS buildings and fire officers had been satisfied that there were no immediate risks. Other trusts carried out inspections using their own staff or independent specialists.
NHSI ordered the first inspections in the summer after concerns the sort of cladding used in the Grenfell Tower refurbishment may also have been used in hospitals. Some hospitals are now planning to replace their cladding. John Radcliffe Hospital's trauma unit in Oxford, for example, was judged high risk and has been closed to patients.
Other trusts with risks associated with cladding have taken other measures. Pennine Care Foundation Trust's Oldham integrated care centre has changed evacuation procedures, and fire services will no longer use "call challenge" procedures – intended to spot false alarms – on any calls to attend the building.
However, trusts were meant to look at all aspects of fire safety and not just cladding. Inspections by fire services highlighted problems including staff leaving fire doors propped open and storing materials in corridors that would be used as escape routes. Compartmentalisation, which prevents the swift spread of fire, has also been scrutinised.
Trust level information from NHS Digital shows that there were nearly 1,500 fires on NHS premises last year with two fatalities and 35 people injured.
Fire safety problems go beyond cladding
Worcestershire Acute Trust was criticised by its local fire service for storing printer cartridges and recycling boxes in a corridor at its Worcester site, and for propping open a theatre store door with an ultrasound machine that was being charged via an extension cord at Kidderminster Hospital.
Although the fire service noted its general compliance was improving, necessary fire safety work will cost millions. Worcestershire Acute's current capital plans are for £1.8m of work but less than 10 per cent of this amount has been approved as part of a loan request.
A trust spokesman said: "Our recent fire safety observations have shown an improvement in fire regulation compliance and none of our hospital buildings are subject to any formal enforcement action."
Monthly safety audits and daily checks were undertaken at the trust, he said. "If any issues are identified during these frequent checks, we work closely with the department involved to make sure that corrective action is taken immediately," he added.
Some trusts have taken immediate action to reduce general fire risks. Gloucestershire Hospitals FT has intensified fire officer inspections and training at night. It is also checking the cladding on its buildings is as specified in the original contracts.
Northern Devon Healthcare Trust has developed an action plan in the light of the Grenfell tragedy with additional focus on ensuring that escape routes are clear of clutter and it is reviewing its maintenance backlog.
Wrightington, Wigan and Leigh FT's board has been asked to release additional capital so that work on improving compartmentalisation can speed up.
However, while many trusts are focusing on what can be done to improve fire safety, the timescale for some has been extended. A report on North Tees and Hartlepool FT praised the "willingness and desire" to improve fire safety but suggested it could take 3-5 years to deliver the improvements.
Some trusts were struggling to make improvements even before Grenfell. The fire service noted that actions agreed with Dorset County Hospital FT in 2012 had "yet to be completed." The trust said this related to upgrading its fire alarm system, which was in progress.
The HSJ Strategic Estates Forum is taking place on 20 March at BMA House in London. This is a high-level strategic forum that brings together estates directors, STP estates leads and trust board leaders responsible for the estates function who are developing strategic plans for their organisations and local health economies. The focus of the forum is on issues such as the delivery vehicle for the Naylor Report, the creation of Project Phoenix, advice on establishing SEPs (Strategic Estates Partnerships) and assessing progress of STP estates plans. Sir Robert Naylor, National Adviser, NHS Property and Estates; David Williams, Director General of Finance, Department of Health and Simon Corben, Head of Profession, NHS Improvement are all confirmed as keynote speakers for the event. Register your interest for this free-to-attend event on our website: https://strategicestates.hsj.co.uk/register-your-interest-attending

Exclusive: More than 50 trusts yet to carry out post-Grenfell fire checks
1

Currently reading

Exclusive: More than 50 trusts yet to carry out post-Grenfell fire checks

2