A fraction of the apparently empty beds in the NHS' acute trusts are available to care for non-covid patients
Hospitals are juggling caring for covid and non-covid patients in limited bed space
Trusts have had to reduce their bed count to provide greater spacing for infection control
Nearly half the general hospital beds previously reported as "unoccupied" by the NHS are not in fact available for non-covid patients, due to infection control measures, an HSJ analysis of new NHS data reveals.
Amid concerns about hospitals being overwhelmed as winter pressures and discharge delays combine with covid, trusts have recently been asked to report on the number of beds they have available for non-covid patients. The figures were published for the first time last night.
They reveal that the number of adult general and acute beds available to non-covid patients across England, at general acute trusts, is 4,065 fewer than the official reported total of "unoccupied" beds for these trusts (8,900). The remaining 4,835 were available for non-covid patients.
The beds are unavailable to non-covid patients because hospitals have had to create separate areas for covid-positive admissions and those whose covid status is unknown. They have also had to take more beds out of general use when there are outbreaks in wards and bays which are meant to be "covid negative".
The reduced availability of beds for non-covid patients is exacerbating the NHS' challenge to combat rapidly escalating elective care waiting lists, which have seen — for example — the number of year long-waiter rise to over 200,000.
This loss of beds for non-covid patients is separate to, and on top of, the impact of hospitals having to close beds altogether to create extra space to enable social distancing, and because of higher staff absence rates. These factors have already resulted in substantial reductions in the total number of available beds. There are around 8,000 fewer general and acute beds in use in total than last winter.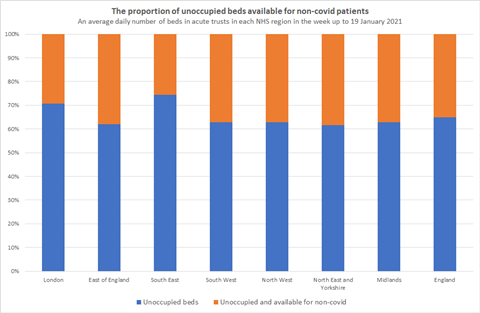 Beds open vs beds available for non-covid.
The result of all these factors is that in the most pressured regions — London and the South East — there are now substantially fewer general hospital beds available for non-covid patients than the same week last year (see chart below). This is despite huge falls in the number of non-covid patients in hospital, as covid admissions have risen since November, mainly due to cancellation of planned care.
London's hospitals reported more than 1,000 "unoccupied" beds, on average, in the week up to 19 January — but only 452 of them are available for non-covid patients, two-thirds of the 684 beds available and unoccupied in the same week last year.
The South East has also felt the brunt of the current wave of the pandemic and has a smaller proportion of its beds available for non-covid patients than the capital. It had an average of 1,260 unoccupied last week but only 435 or 34 per cent of them were available for patients without the virus, compared to 559 available beds this time last year.
Hospitals in the South West and North West both had 59 per cent of their unoccupied beds available for covid patients. The trusts in both regions have yet to come under the same kind of pressure as London, the South East and East of England, in this third wave.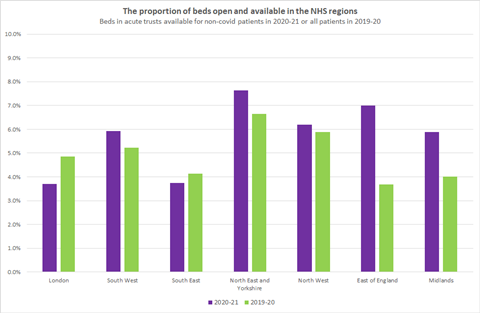 Beds for non-covid patients in 2020/21 and 2019/20
Trusts across England have been cancelling elective work to ensure they have enough staff and beds to cope with the oncoming wave of the pandemic that is working its way north and west from the capital.
London and the South East region both have a lower proportion of beds available for non-covid patients than they had available last year. The other five regions have a larger proportion — potentially a reflection of trusts clearing the decks in preparation as well as lower emergency non-covid demand, partly because of the as-yet limited circulation of seasonal flu.
Source
HSJ analysis of NHS data