English hospitals have reduced the amount they expect to save on wage bills this year, as they focus on cutting costs in other areas and boosting income.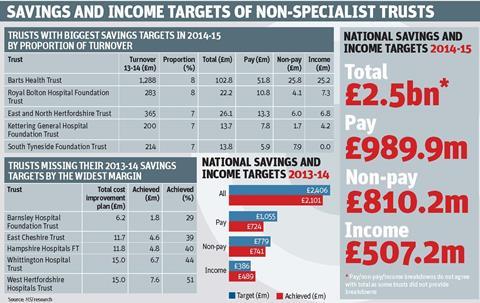 An HSJ analysis of savings and income plans of 139 non-specialist trusts revealed they aim to cut pay costs by almost £990m in 2014-15 - just 40 per cent of the £2.5bn they plan to save overall. This compares with more than £1bn of planned pay related savings last year, representing 43 per cent of the total.
The relatively low proportion of cost reductions on wage bills for a second year running has sparked concern among finance directors approached by HSJ, as pay typically makes up about 70 per cent of hospital costs.
Further cause for concern is found in an analysis of hospitals' performance against last year's planned savings on staff expenditure. This reveals they made savings of just £724m against a planned £1.06bn, a shortfall of almost 30 per cent.
The lowering of pay savings targets is understood to be partly a result of trusts increasing nursing staff numbers in the wake of the Francis inquiry.
HSJ's analysis also indicates that trusts are aiming to overshoot Monitor and NHS England's official 2014-15 efficiency target of 4 per cent. Data supplied to HSJ puts the median cost improvement programme at 4.8 per cent.
Finance directors told HSJ the 4.8 per cent target would be very difficult to achieve this year without significant changes to service provision, and that changes were not in evidence on a national scale.
The Nuffield Trust said this month that the NHS was "destined to experience a funding crisis this year or next" unless these kinds of changes materialised. Finance directors said they now expected a crisis sooner rather than later as details of their cost improvement plans for the first quarter of 2014-15 emerged. Andy McKeon, senior policy fellow at the trust, said: "There has been a decline in savings over the last two years. It is getting more difficult and I would be surprised if [trusts] managed to increase the level of savings this year."
Mr McKeon said CIP performance was one of the key indicators of deteriorating financial positions for boards.
The analysis shows that trusts have committed to saving £810.2m in non-pay costs this year compared with last year's target of £779m, and achieved savings of £741.4m.
Finance consultant Noel Plumridge warned that the focus on non-pay savings for a second year running could prove difficult to achieve. "Non-pay CIPs are often non-recurrent - the freeze on maintenance or training budgets, for instance - leaving a residual problem the following year," he said.
"Genuine large scale transformation in non-pay spending, involving closing and selling property while using other property more intensively, is difficult and often involves multiple agencies. In the run-up to an election, it's too difficult by half."
The analysis also shows the proportion of trusts' CIPs they aim to cover with new income has risen by almost a third, up to £507m from their £386m target in 2013-14. Such income can be raised from private patient units, land sales and other income on their savings plan submissions to Monitor or the NHS Trust Development Authority.
Six trusts this year predict to make more than half of their savings through income, from smaller trusts such as Mid Cheshire Hospitals Foundation Trust to large teaching hospitals such as Central Manchester University Hospitals Foundation Trust.
James Wilson, managing director of finance consultancy Assista, said: "Many trusts are looking at expanding into new areas and repatriating work to bring in new income. But to the NHS as a whole this is not new income and if one trust wins work, then another trust's problems get deeper."