NHS Improvement grants four high performing trusts the power to lead groups or chains of hospitals
The foundation group leaders will be able to head up buddying, partnerships and federations of hospitals or begin mergers and acquisitions
The accreditation aims to give the four trusts the power to bring about the acute care collaboration vanguard projects
Four high performing acute foundation trusts have been given the power to lead groups or chains of hospitals by NHS Improvement.
The regulator has "accredited" the four providers, which are all involved in the acute care collaboration vanguard programme. The central accreditation process is an important element in the establishment of hospital chains.
The four trusts given "foundation group leader" on Friday accreditation were:
Guy's and St Thomas' FT;
Northumbria Healthcare FT;
Royal Free London FT; and
Salford Royal FT.
All four are part of acute care collaboration vanguards and have drawn up plans to consolidate hospital services across multiple sites. The options available to trusts leading chains, which all seek to improve clinical and financial viability, include buddying, partnerships, federations of hospitals, and mergers and acquisitions.
Northumbria and Salford Royal have both been rated outstanding by the Care Qulaity Commission, while Guy's and St Thomas' and the Royal Free London are rated good.
NHS Improvement chief executive Jim Mackey said the announcement was a "big step forward" that would allow patients and providers to benefit from the best leadership in the health service.
Mr Mackey, who until last year was chief executive of Northumbria Healthcare FT, said: "Being in a group isn't right for everyone. The accreditation process considered not only the quality of services on offer and the management trusts have, but also the benefits that trusts will get from being part of a group and the potential risks they face."
During the accreditation process the regulator looked at each trust's current quality and financial performance, their management capacity and their capability to ensure they are starting from a sound position to lead a foundation group.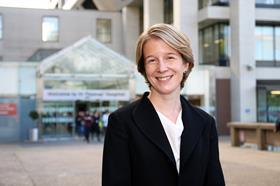 Northumbria said the accreditation will allow it to share its knowledge, expertise and support to other trusts across the country, including its back office corporate services.
Under the Northumbria foundation group multispecialty chain project, the trust is already the appointed acquisition partner and buddy of North Cumbria University Hospitals Trust, according to NHS England's vanguard website.
The plans being drawn up include the foundation group supporting other organisations by either acquiring or merging with other trusts, providing corporate services to other NHS organisations and creating a standard operating model for clinical outcomes.
Chief executive David Evans said: "For many years we have been at the forefront of innovation in the NHS, pushing the boundaries of excellence, pioneering new models of care and always thinking one step ahead about the challenges of delivering modern healthcare.
"The NHS is constantly changing, the needs of our patients are constantly changing and as medicine and technology advances, we must keep pace and create a healthcare system which switches our focus on prevention and keeping people well."
Salford Royal is already working with Wrightington, Wigan and Leigh Foundation Trust to set up a chain as part of the vanguard programme.
Its chief executive, Sir David Dalton, penned a government backed review endorsing the establishment of hospital chains – or "foundation groups" – in 2014.
HSJ understands the trusts would create a standard operating model for clinical pathways that any trust joining the group would have to adopt, in a bid to spread best practice and reduce variation between providers.
Sir David took over as chief executive of Pennine Acute Trust on an interim basis following the inspection in March, and said both trusts will be involved in the new "provider chain" model.
Sir David said the foundation group's particular interest was to use digital solutions to drive forward best practice and the chain model assured the "reliable delivery of high standards" compared to delays caused by multiple organisations making decisions independently.
He added: "The key aim of leading a Group of NHS providers is to deliver high quality care that is standardised and replicated across all organisations to improve patient outcomes and deliver better value for money.
"Assuring the reliable delivery of high standards, at scale to a greater population, allows quicker decision making and ensures that those decisions are taken in the interest of the population. This contrasts with delays in decision making which often occur when multiple organisations are assessing the impact of changes on themselves rather than the wider interests of the population they should be serving.
"Salford Royal, which is one of only five Trusts in the country to be rated 'outstanding' by the CQC, has started this improvement journey with Pennine Acute Trust and I am optimistic that this is the beginning of an arrangement which can provide positive changes which will be appreciated by staff, patients and the communities we serve."
Royal Free London's vanguard proposition is for the trust to become the leader of a group of NHS organisations formed through buddying, merging back-office functions and new clinical and corporate ventures.
A spokesman for the Royal Free London said the trust was "exploring options" around forming a hospital group.
He added: "We are developing proposals with North Middlesex University Hospital to determine how and when they could become a member of the group and are also in early discussions with the Royal National Orthopaedic Hospital about the benefits of potential future collaboration.
"In addition, we are already providing buddying support to West Hertfordshire Hospitals NHS Trust.
"The RFL believes the group model will provide significant benefits to patients by reducing variation in clinical services and lowering our costs."
Guy's and St Thomas' and Dartford and Gravesham Trust are developing a joint venture under the vanguard programme, in which GSTT is the "system leader" with Dartford and Gravesham acting as a "local care provider" as part of a foundation healthcare group.
GSTT chief executive Amanda Pritchard said: "We are using this opportunity to explore new ways of working and whether the collaboration with Dartford and Gravesham might be extended to other providers in the future.
"We see this as complementary to our ongoing commitment to work closely with our partners here in south east London, as well as from further afield."