Four out of five hospital chief executives believe their trust will do more work this financial year than it did in 2011-12. The finding casts doubt on commissioners' hopes of controlling demand.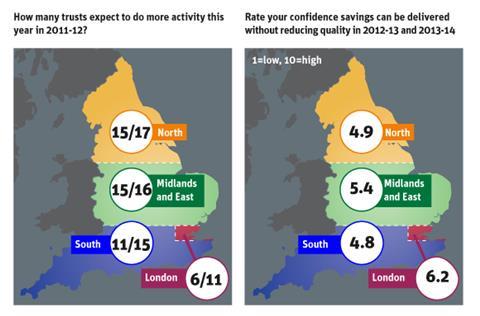 Despite the government's aimof shifting activity from hospitals, only one of 59 respondents to an HSJ/Capsticks survey expected to do less work than last year.
The quarterly barometer survey of the most powerful people in the acute sector saw less than one in five chiefs predict their trust's workload would be kept down to 2011-12 levels.
The results strike a blow to a central tenet of the DH's £20bn quality, innovation, productivityand prevention programme, which seeks the removal of activity from the acute sector to the community, where it is thought care will be cheaperand more convenient for patients.
The news came as Department of Health figures showed rises in non-elective admissions and GP referrals of 3.8 per cent and 1.8 per cent respectively between April and August 2011, and the same period this year.
NHS Confederation chief executive Mike Farrar said: "The irony is our hospitals are busier than ever but we are told that we need less hospital capacity aswe shift to primary and community care. They are busier with people who maybe don't need to be there and they are not being paid to cover the cost of that activity, giving the lie to the idea that trusts are pulling in [activity] to balance the books.
"The system at the moment fundamentally isn't working as it should be."
But he expressed optimism the activity trend could be reversed if the NHS's surplus was invested in out-of-hospital care.
One hospital deputy chief executive told HSJ: "Our referrals and activity levels continue to rise at rates above modest primary care trust projections, and there is little or no evidence to show that the dramatic demand management and diversion schemes commissioners have pinned their hopes on are having any impact.
"There is a huge gap between plan and reality."
The survey also showed low confidence in the ability of organisations to cut costs this financial year and the next without compromising quality.
Asked to rate their confidence from 1 (lowest) to 10 (highest), the average was 5.2. London trusts were the most assured, with an average score
of 6.2, while those in the southern strategic health authority cluster had the lowest average, with 4.8.
There were also wide disparities in how closely health economies followed rules on payment by results.
Senior figures have told HSJ their organisations had moved back towards block contract arrangements for some services, despite the 2012-13 operating framework saying the tariff was "mandatory" in most circumstances.
The survey also asked chief executives to rate on a scale of 1-10 how "meaningful" the tariff system was in their area. The national average score was 5.8.
Again, there was a large difference between trusts in the capital and the North, with averages of 6.7 and 5.1 respectively.
Peter Edwards assesses the latest Chief Executive Barometer
A surprising feature of this month's Chief Executive Barometer is that 80 per cent of respondents expect to undertake more activity this year than last.
This sits uncomfortably with comments from politicians and commissioners indicating more activity should be moved out of hospitals and undertaken closer to patients' homes.
The challenge of maintaining quality while delivering recurring cost savings also features. Chief executives were significantly more confident of maintaining the quality of services over the next 12 months than over the next two years. This suggests that the relentless requirement to deliver cost improvement plans year on year may take its toll next year, or that the savings required will be greater than can be delivered without compromising quality.
There isn't a high level of confidence in the ability of commissioners to carry out their roles effectively. It will be interesting to see the trend for this question in subsequent polls as clinical commissioning groups take on increasing responsibility.
The Francis report into Mid Staffordshire Foundation Trust is looming with more than 90 per cent of respondents expecting it to have a significant impact on how the hospital sector operates and is perceived.
Finally, on the question of whether Jeremy Hunt will do a better job than Andrew Lansley as health secretary, the jury is still out.
We eagerly await seeing how opinions change once Mr Hunt has been tested by the Francis report's publication and a spate of acute service reconfiguration proposals.
Peter Edwards is senior partner at Capsticks.
What is keeping chief executives up at night?
"Having to give more time to deal with the fact that long-term sustainability is not possible and dealing with over-performance issues with commissioners."
"Spending time on work coming out of the [reforms]. For example the local education and training board, the academic health science network, meetings with local area team of NHS Commissioning Board."
"Delivering the targets."
"Strategic change and political opposition, the [medical] consultants still not recognising change agenda."
"The lack of seniority and experience of the new commissioners is a source of considerable concern. They are just not experienced enough to exercise the authority vested in them and are totally outgunned by the large providers."
"Dealing with the politics on service reconfiguration. MP involvement is not helpful and is distracting."
"Delays at Monitor slowing down the FT application pipeline"
"We are spending quite a lot of time considering whether/how we should make acquisitions proposals."
"Real concern that the CCGs are focussed on authorisation and the system is in flux just as we hit winter with unprecedented emergency pressures facing the acute sector. Also, some GPs thinking they can get their own back for what they think has been acute sector domination."
"The differentiation of 'quality' from 'safety' as far as patient care is concerned. Engagement of staff in the need to deliver the agenda, whilst having hands tied by national terms and conditions."
"Making redundancies."
"The quality of knowledge/engagement of foundation trust governors at a time when their role is growing."
"Finding savings schemes, discussions with trades unions about savings and discussions with [medical] consultants about improving productivity."
Hospital activity 'will rise'
1

Currently reading

Hospital activity 'will rise'

2