Hospital chief executives believe there is little value in separating the NHS into commissioners and providers, a new HSJ survey has found.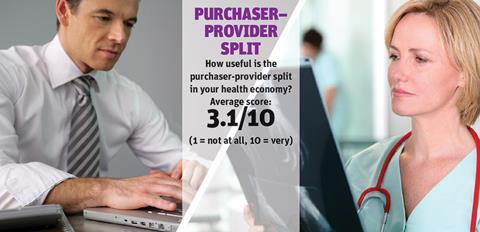 Purchaser/provider split
The latestHSJ/Capsticks hospital chief executives' barometer asked the leaders of England's hospital trusts to rate how useful the purchaser-provider split was in their local health economies, from 1 (not at all useful) to 10 (very useful).
The average rating across all 45 respondents was just 3.1, with no respondent giving a higher rating than 8.
The division of the health service into purchasers and providers has been a cornerstone of governments' health policies for three decades. However, recent months have seen its value called into question by high profile figures within the NHS.
Outgoing NHS England chief executive Sir David Nicholson last month told HSJ his organisation was looking at "whether the straightforward commissioner-provider split is the right thing for all communities".
The barometer responses showed northern chief executives were slightly more positive about the purchaser-provider split than their London counterparts, with respective averages of 3.7 and 2.2 out of 10.
Hospital chiefs overseeing a turnover of between £400m and £600m were most enthusiastic about the system as it is, with an average score of 4.1. Larger trusts, with a turnover of between £600m and £800m gave an average of 2 out of 10.
Nuffield Trust head of policy Judith Smith told HSJ the results might reflect a feeling that the purchaser-provider split "works for elective stuff but not for the rest".
She said: "[Providers] had a good period under payment by results, but that's been coming to an end for a while.
"For me what this score [the average of 3.1] indicates is recognition by hospital chief executives of financial austerity and the pressure to sustain or improve services, [and] that a straightforward purchaser-provider split isn't the way to deal with these issues.
"Some hospitals are recognising they need to work differently."
Foundation Trust Network chief executive Chris Hopson said: "This result reflects three things.
"First, the uncertainty around commissioning as it's gone through yet another reorganisation. Second, the growing view from the Nuffield Trust and others that the cost of commissioning simply isn't delivering sufficient corresponding value - with scrutiny on this trade off growing as NHS finances get tighter.
"Third, leaders of foundation trusts and trusts want to focus on delivering better services to patients and often get frustrated by the amount of time they have to spend negotiating contracts with commissioners and navigating the added complexity this brings."
The survey also asked chief executives to rate how useful they had found the friends and family test.
Trusts have been obliged to collect this patient experience data since April and the first release of the results is expected to take place this month.
On a scale of 1 to 10, with 1 being low and 10 high, the average score was 4.8.
The anonymous survey also asked chief executives who they would like to see replace Sir David as chief executive of NHS England.
The most popular choice was consultancy firm KPMG's Mark Britnell, whom five respondents said they would like to see lead the service.
Next was NHS Confederation chief executive Mike Farrar, with four mentions, followed by former NHS London chief executive Dame Ruth Carnall, with three mentions.
Hospital chiefs give thumbs down to purchaser-provider split
1

Currently reading

Hospital chiefs give thumbs down to purchaser-provider split

2

3