A central London foundation trust has announced plans to sell off land worth hundreds of millions of pounds.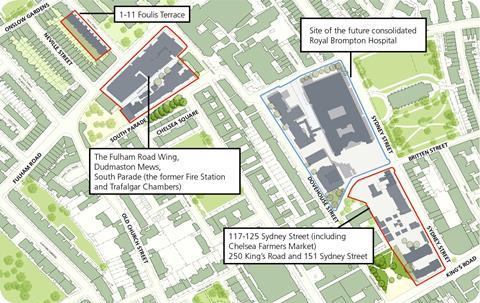 RBH
The Royal Brompton and Harefield Hospitals Foundation Trust intends to sell off roughly half of its land in Chelsea, some of the most expensive property in the world.
The trust, which specialises in treatment for heart and lung conditions, has said it will plough the proceeds of the sale back into upgrading the rest of the hospital, much of which was built in the 19th century.
The trust has facilities in Chelsea and another hospital in Harefield, outer London. Two years ago it was reported the organisation was considering selling off the whole of its central London site for approximately £500m.
Chief executive Bob Bell told HSJ the £350m-turnover organisation had investigated using the proceeds from a sale of the site to move to another location.
He revealed the trust had investigated relocating to Cambridge's health campus, which is next to Addenbrooke's Hospital, and had examined 42 sites in Greater London.
These include buying part of the Battersea Power Station redevelopment, the Olympic Park in Stratford, the BBC building in Shepherd's Bush, a pipeworks in Acton, a site in Earls Court, a post office site near Smithfield Market plus locations in the capital owned by Marks and Spencer, Aviva and University College London Hospitals.
Mr Bell said the trust had spent "millions" appraising the options but none had bettered the one it was now pursuing, adding he didn't want to get "caught up in property schemes - we are a hospital".
Outline plans for the redeveloped hospital as explained to HSJ include a three-storey building with a planned underground car-park and a focus on individual patient rooms, rather than wards.
In a statement the trust said single occupancy rooms were important in protecting cystic fibrosis patients from potentially life-threatening infections.
Currently the hospital is considering a bed base of about 400, up to a maximum of 450 – hospitals bigger than that carried an "operating cost that makes them unworkable", Mr Bell said.
He added he was open to offers of joint ventures and working with neighbours the Royal Marsden Hospital, a cancer specialist, and the Chelsea and Westminster Hospital.
The trust hopes to achieve planning permission for its new site in 2015 and then have its new development completed within 10 years.
One senior source in London said it was "disappointing" that "the Royal Brompton has missed out on the opportunity to co-locate with one of the other tertiary providers and create a centre of international scale".
Mr Bell said there had been "notions in people's minds" about combining services at Hammersmith Hospital but it was "an unachieveable dream that we [could] create a super hospital there". He added: "We wouldn't have been able to go there until 2025, and we hope to be finished by then."
In June Jeremy Hunt suspended a review that had determined the Royal Brompton was one of three sites across England that should stop performing paediatric congenital cardiac surgery.
The trust said losing the work would have knock-on effects on other services that would render it unviable.
Royal Brompton made legal history in being the first NHS body to take another NHS body to a judicial review. It eventually lost the case but Mr Hunt suspended the review after advice from the Independent Reconfiguration Panel.
NHS England is now reviewing how child and adult congenital heart services should be commissioned.