Services will be given one of three designations by 2020
Urgent and emergency care networks will decide if services should be downgraded or not
Londoners find the current emergency care setup confusing, survey finds
Urgent and emergency care services in London will be split into three different categories, as part of work to take forward Sir Bruce Keogh's recommendations from the urgent and emergency care review in 2013.
Current urgent and emergency care facilities will be designated urgent care centres, emergency centres or emergency centres with specialist services.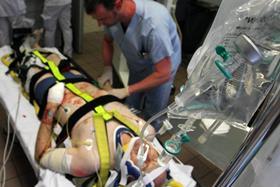 The process will start in autumn 2017 and changes will be in place by 2020.
The five urgent care networks in London will decide if current facilities should be downgraded or not.
The networks are North Central, North West, North East, South East and South West London.
Urgent care centres will include walk-in centres, minor injury units and GP led health centres, and will be open for at least 16 hours. They could be co-located with emergency centres and will have access to x-rays and blood tests.
Emergency centres will be what are currently known as emergency departments and the acute hospitals they are part of. A consultant in emergency medicine will deliver care for a minimum of 16 hours a day, seven days a week.
Consultants will also provide an earlier review of patients across seven days a week in acute and surgical assessment units.
Emergency centres with specialist services will apply to emergency departments with one or more of a major trauma centre, hyperacute stroke unit, heart attack centre and specialised vascular service.
In a report published today by Healthy London Partnership, a collaboration between all London clinical commissioning groups and NHS England, a survey of 1,000 Londoners and over 800 interviews with people attending emergency departments found that three in five Londoners find urgent care services confusing and 68 per cent do not know the difference between urgent care centres, minor injury units, GP led health centres and walk-in centres.
Conor Burke, co-chair of the Urgent and Emergency Transformation Programme and chief officer of Barking and Dagenham, Havering and Redbridge CCGs, said: "Londoners have told us they want urgent and emergency care to be available, clear and consistent, and coordinated so they can have confidence they will be seen quickly by the right person the first time around. This vision for urgent and emergency care in London will mean Londoners experience shorter queues, longer opening hours and efficient coordinated systems by 2020."
Andy Mitchell, co-chair of the programme and medical director at NHS England (London), said: "We have made significant gains in improving London's urgent and emergency care services with some of the best services in the world. We need to build on this work to accelerate transformation and deliver high quality, safe urgent and emergency care seven days a week.
"Commissioners and clinicians right across London have already committed to the implementation of the London Quality Standards and are in an excellent position to make this vision for urgent and emergency care a reality through the delivery of these specifications."