Midlands makes final ICU expansion that reaches limit of what can be provided
Hospitals in London have started to accept patient transfers from other areas
ICU demand nationally has still not peaked, but growth is slowing
Hospitals in the Midlands are making a final expansion to their critical care capacity that would reach the limit of what they are able to provide.
In contrast, easing pressures in London means the capital has started to accept patient transfers from other areas.
But as the demand for intensive care appears to have peaked in the capital over the last fortnight, pressures in the Midlands have continued rising.
HSJ understands a recent letter to trusts in the region from NHS England said they should move to their maximum "super surge" capacity, meaning every possible intensive care bed should be opened.
This would mean a capacity of more than 1,100 beds, against the normal baseline of around 640. The region had previously been asked to move to "surge" level capacity, of 876. The more recent letter was sent on Wednesday last week.
A previous letter suggested that if maximum super surge capacity is breached, this could put clinicians in a position of "making difficult triage decisions".
One senior critical care clinician told HSJ transfers from Midlands critical care units to the north of England were now happening on a "daily" basis.
Meanwhile, several senior sources said London hospitals have now started to accept some intensive care transfers from other areas. Most have come from the adjoining counties, but some had come from further afield, they said.
London was severely hit by coronavirus pressures in December and early January, and had to transfer unprecedented numbers of patients out to other areas.
At Wednesday's board meeting Guy's and St Thomas' Foundation trust chief operating officer Jon Findlay said the trust is still at triple its normal ICU capacity, with 204 patients in those beds, compared to a spring peak maximum of 153.
All areas of London reported continuing extreme pressure on intensive care units with slight declines in covid patients in general and acute beds.
Analysis of NHS England data suggests demand for ICU beds nationally has still not reached its peak as occupancy rates have continued to climb over the last week. However, the rate of growth is slowing across all regions (see images)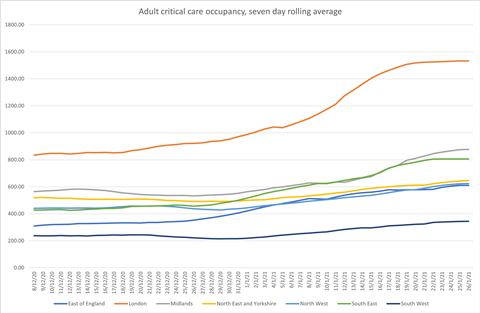 In the week to January 26, there were an average of 5,444 patients in ICU beds in England. This was 81 per cent more than it was in the same week last year – the highest year-on-year total so far this winter.
The number of patients in ICU beds rose by four per cent from the previous week's average of 5,202, but this was down from an 11 per cent rise the previous week.
The largest rate of growth continued to be in the Midlands, with growth rates also comparatively high in the North West and the South West.
London had the lowest growth rate in ICU demand, dropping from 15 per cent last week to just 1.7 per cent this week, but still has by far the most intensive care patients in the country with 1,523.