Newcastle upon Tyne Hospitals FT and University College London Hospitals FT fail combustibility tests
Both trusts have introduced 24/7 fire warden patrols
A further six organisations designated "priority one"
Two more hospital trusts have now failed cladding fire safety tests carried out in the wake of the Grenfell Tower disaster.
Newcastle upon Tyne Hospitals Foundation Trust and University College London Hospitals FT failed combustibility tests after submitting samples of building materials.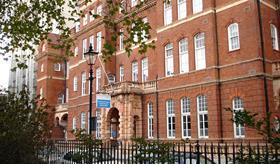 The failed sample taken from UCLH came from the National Hospital for Neurology and Neurosurgery in Queen's Square, London. The cladding at its University College Hospital site, including the tower, was not of concern.
The Queen's Square building is partially clad and contains outpatient areas, open during daytime only. Other areas of the building are used by the trust's academic partners and there are no inpatient units.
NHS Improvement said both trusts have instigated 24/7 fire warden patrols and are being supported to take urgent steps to ensure fire safety.
It confirmed a further six organisations have now been designated as "priority one" for testing after supplying additional technical information. Samples will now be taken for testing, with NHS Improvement providing a further update once the results are known.
An NHS Improvement spokesman said: "Patient safety continues to be our absolute priority and we'll make sure the NHS is supported to carry out the urgent fire safety checks required."
All trusts were asked to carry out urgent fire safety checks in the aftermath of the Grenfell Tower fire last month.
Newcastle and UCLH are the latest to fail tests, following King's College Hospital FT, North Middlesex University Hospital Trust in London and Sheffield Children's FT. The trusts failed combustibility tests carried out by the Building Research Establishment.
Samples taken from King's and North Middlesex in London had aluminium composite material cladding in non-inpatient areas. King's has removed the cladding as a precaution.
Sheffield Children's is removing cladding from a building, which is not used for inpatient accommodation, after failing the test.
NHS Improvement said all 38 organisations originally designated "priority one" have been reviewed.
Nineteen of these have been stood down and require no further action having had fire safety inspections and supplied technical information to the regulator.
Another 14 require no further action at this stage having had building material samples discounted by BRE.
NHS Improvement contacted all trusts to carry out urgent safety checks last month in the wake of the Grenfell Tower disaster, which is believed to have claimed the lives of 80 people.
The orders, issued over a weekend, caused confusion across the sector as it later emerged fire services had not been consulted and local services were inundated with calls from trusts without the staff on duty to respond.
However, safety inspections discovered none of the 30 other trusts declared priority one by NHS Improvement had potentially dangerous cladding or required "no further action at this stage".
A UCLH statement said further safety measures had been implemented including regular fire patrols, a review of fire safety features to ensure they were fully functional and additional fire risk assessments of the building. Additional fire safety training will be introduced for staff at the Queen's Square site along with the implementation of new fire evacuation procedures.
The trust said: "In the coming weeks, we will continue to work with NHS Improvement to determine what other actions are necessary, including what, if any, modifications are required to the cladding.
"We would like to assure our patients, staff and visitors that their safety is our top priority and that our fire assessors have said that this building is a safe place to visit and work.
"The building has numerous fire safety features such as fire doors, fire compartments and a detection and alarm system which we test every week."
Newcastle said tests showed a "small area" of the Freeman Hospital, which carries out transplants, was "of concern" although the sample sent for testing was not taken from an area used by inpatients.
Tests also showed concern from samples taken from the Royal Victoria Infirmary but the area was also not used by inpatients.
The trust plans to remove and replace the cladding.
A trust spokeswoman said: "The safety of our patients, staff and visitors is our number one priority so we are working closely with Tyne and Wear fire and rescue service and NHS Improvement to ensure additional fire safety checks are completed."
Source
NHS Improvement and trust statements