Essential insight into NHS matters in the North West of England, with a particular focus on the devolution project in Greater Manchester. Contact me in confidence here.
In this week's North by North West:
Greater Manchester's A&E problems
Missing the point on DTOCs
The new leadership structure for Manchester's hospitals
Health secretary sympathetic to criticism of visa decision
A&E lessons
When the devolution experiment kicked off in Greater Manchester two years ago, the overriding priority for the NHS was to get control of its finances.
Taken as a system, the region has so far passed the financial test with flying colours.
It reported a big surplus in 2016-17, and is expected to meet its notional control total once the figures are finalised for 2017-18.
Whatever credit we assign to the devolution team for this (as opposed to efforts within individual organisations), there is no doubt it will imbue confidence from ministers and NHS England.
This will help Greater Manchester stay near the front of the queue for transformation and capital resources, and encourage national leaders to continue backing the project.
While financial control remains crucial, Greater Manchester needs to up its game on accident and emergency waiting times – which are now clearly identified as the most important operational target.
Unprecedented pressures have led to poor performance against the four hour target across most English providers, but Jon Rouse and his devolution team will be conscious Greater Manchester has consistently lagged behind the worsening national average.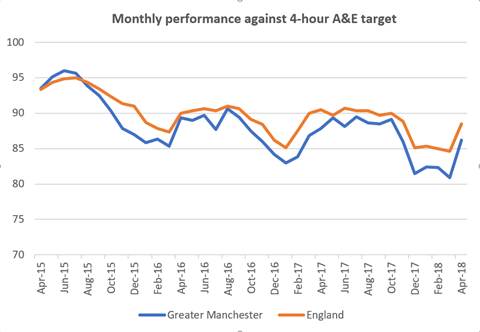 Mr Rouse described A&E as the region's "Achilles' heel", telling HSJ in a recent interview: "It's very frustrating and there's no question we wanted to be in a better place than we are. We have spent an inordinate amount of time trying to understand why… we've got to address it."
He says there have been two key learning points from the struggles to date: "bespoke bottom up improvement plans" are required in the 10 boroughs (problems in Wigan are very different than in Stockport, for example); and efforts to reduce delayed transfers of care in isolation have been "pointless".
The DTOCs issue illustrates the danger of national targets focusing on one part of a complex process – in this case, NHS England's directive that every health economy reduces DTOCs to 3.5 per cent of the bed base.
Stockport, where DTOCs have reduced dramatically, has been a good example of hitting the target but missing the point.
This is because of cases either side of the definition – patients who are medically fit for discharge (not yet classed a DTOC) and "stranded" patients (still occupying a bed long after a DTOC is triggered).
When all these patients are considered together in one graph, the line has been flat.
This is not to say that efforts on DTOCs has been wasted, because hopefully the shared focus will have helped foster shared thinking and working between disparate teams.
"Beginner's level" was how Mr Rouse described it. We will see how the system gets on with intermediate level in 2018-19.
New leadership map
Manchester University Foundation Trust has now appointed all six "hospital chief executive officers" as part of the new group structure that mirrors the arrangements between Salford Royal FT and Pennine Acute Hospital Trust.
The six site CEOs sit below the trust board, which is still led by Kathy Cowell and Sir Mike Deegan.
Baroness Harding, NHS Improvement's chair, spoke last week about the lack of a "talent map" for NHS leadership. The new group model could offer an answer, by helping people demonstrate their skills and capability more clearly. We'll see how it works in practice.
Manchester transfer news
Community staff in North Manchester are set to transfer to Manchester University FT in July, after the contract for the services transferred from Pennine Acute Hospitals Trust last month.
This tidies up the community services provision in the city of Manchester, which has gone from being split between three providers last year to one. Work continues on the planned transfer of North Manchester General Hospital into the mega trust.
Crazy beyond belief
Jeremy Hunt appears sympathetic to criticism of "crazy" immigration policies that led to the rejection of 100 visas for Indian doctors recruited by North West trusts.
He says he will raise the prospect of creating a dedicated immigration visa category for health and social care staff with new home secretary Sajid Javid.
The doctors had been recruited via a long running programme run through Wrightington, Wigan and Leigh FT, and the Home Office refusal was roundly derided.
A senior NHS official associated with the project said: "This is just a crazy decision. Crackers beyond belief. Right across the NHS we are trying to increase the numbers from overseas. The Home Office say the refusal was in our national interest but it's in our national interest to have an NHS that's properly staffed.
"The staffing situation is really dire and if the government don't change their mind soon then these people might decide not to come."