Essential insight into NHS matters in the North West of England, with a particular focus on the devolution project in Greater Manchester. Contact me in confidence here.
The appointment of Jon Rouse to lead Greater Manchester's devolution team was an indicator of the project's importance to national leaders in 2016.
Similarly, his resignation feels like the culmination of a gradual loss of enthusiasm from Whitehall.
In truth, national leaders' support for "Devo Manc" began diminishing just a few months after its official launch — with the departure of George Osborne from the Treasury in July 2016, the project lost its main champion in government.
There was still £450m of transformation funding to spend, of course, and the potential to convince national leaders that further cash would be worth it.
But the absence of any obvious pulling away from the rest of the country — in terms of quality and performance — means exceptional investment in the region is unlikely to be repeated. From 2021, it looks like Greater Manchester will receive a similar share of transformation cash as other areas.
Loss of status
The loss of its special status was cemented once the new management structures between NHS England/Improvement were launched earlier this year.
Whereas Greater Manchester Health and Social Care Partnership had previously reported straight into NHS England's national team, it now sits within the management structure of Bill McCarthy's regional directorate. It also has not been shielded from the national requirement for commissioners and oversight bodies to cut their running costs by 20 per cent.
This was no longer the job description that persuaded Mr Rouse, a former council chief executive and director of social care at the Department of Health, to move to Manchester. So few will be surprised by his decision to take a job back in local government, in Stoke-on-Trent. Steve Wilson, the team's finance lead, has also transferred to a council role.
The real question
Forgetting personalities and status, the most important question about devolution and the transformation fund is; what have they achieved?
As you would expect with projects largely geared at producing long-term benefits, it's difficult to start finding answers quickly. And worryingly, there seems to be a lack of benchmarking data being produced (transparently at least), through which progress on its key objectives can be easily measured.
Researchers at the Health Foundation and Manchester Business School are currently working out how to fill that void, while NxNW is in the process of wading through piles of infuriatingly non-standardised population health and hospital activity data.
More on that in subsequent editions.
Headline indicators
Two relatively clear measures, for which data is easily available, are the financial position and performance against the four-hour emergency target.
Clearly these measures come with all sorts of caveats, as there are multiple factors in play, but they do represent the areas that were perhaps most crucial in securing continued political backing for devolution.
Might success on both indicators have resulted in a renewal of national enthusiasm?
On finance, the region outperformed its benchmarks, with only a slight worsening in the underlying position since 2015-16.
As shown in the graph below, Greater Manchester's combined deficit between local commissioners and providers was £27m last year, compared to £25m four years ago. That is slightly better than the rest of the north of England, and far better than its north west neighbours.
But the opposite is true for accident and emergency, where Greater Manchester has fallen consistently behind (and for which it was subject to a formal "intervention" earlier this year).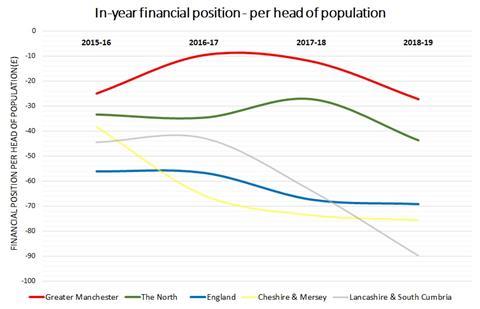 Combines the financial performance of provider trusts and CCGs. Trust figures excluded non-recurrent provider sustainability funding, while CCG figures were for in-year spending against allocation.
Soft intelligence
On a softer level of intelligence, senior figures in Greater Manchester are generally positive about Mr Rouse's overall contribution, especially in terms of the extent of integration with local government. Half the clinical commissioning groups have effectively merged into the structure of their local council, and provider chiefs now have much closer ties with their town hall counterparts.
There has been less enthusiasm about Mr Rouse's ability to forge relationships with, and shape consensus between, some of the region's powerful provider trusts. This was always going to be difficult for an outsider, but perhaps also required a different type of personality.
Night-mayor
It seems unlikely that a like-for-like replacement will be recruited, for the reasons already explained, but also because many of the devolution team's functions (and budget) are going to switch to the provider federation board.
This is now chaired by Sir Mike Deegan, chief executive of Manchester University Foundation Trust, whose long-standing influence in the region will be further accentuated by Mr Rouse's departure, as well as the recent retirement of Sir David Dalton.
At his leaving party earlier this year, Sir David joked about his long-standing rivalry with Sir Mike, and proposed a tongue-in-cheek idea for what they could both do next.
The former Salford Royal chief suggested they could share the mayor's job, with himself as "day-time mayor" and Sir Mike as "Greater Manchester's night-mayor".
One other feature of the devolution years has been the willingness of the region's NHS organisations to work collaboratively (or at the very least to pay heavy lip service to it) and not fall out in public. With several changes at the top tables, it will be interesting to see if that continues.
Graph updated to make clear it was indicating the financial position per head of population.