Essential insight into NHS matters in the North West of England, with a particular focus on the devolution project in Greater Manchester. Contact me in confidence here.
The leaders of Greater Manchester's devolved health and social care system want us to believe their project has been a success.
Assessing that claim is a complex business, but in a series of editions, NxNW is attempting to quantify how much progress has really been made, in comparison to other areas.
A key reason for doing this is because Greater Manchester received a unique transformation fund of £450m, which has enabled the region to invest in a more ambitious range of population health and transformation programmes than the rest of the country. If good progress is shown to have been made, it strengthens the case for investment in similar projects elsewhere.
The first edition looked at five population health indicators for babies, toddlers and young children, and showed some modest, but encouraging trends.
This, the second edition, looks at five indicators for older children and young people, including mental health. Some are directly linked to specific investments which have been made, while others are only indirectly linked. But these were the best/closest I could find for which there was enough data available.
As outlined last time, there are lots of caveats and things to consider before making judgements — my main plea would be to avoid drawing conclusions until the end of the series, when we'll have an overall picture.
Deprivation levels
The first measure is the proportion of children receiving free school meals, which is one indicator of deprivation levels.
It shows an upwards trend for GM, roughly similar to the rest of England and the north. But its regional neighbours have managed to keep their numbers flat or greatly reduce them.
There will be plenty of historical and socio-economic factors involved here, many of which are well outside the control of the NHS and social care budget, but this spike still seems worrying. There have been some new programmes in GM that could have applied downward pressure here (at least £4.5m has gone towards employment related projects), but there are probably wider and more fundamental societal issues at play.
This could also potentially mean more families are actually claiming the free school meals they were always entitled to, which would be a beneficial trend for these children, so plenty of caution is needed with this one.
If you're reading this in the body of your email, click to download pictures to see the graphs.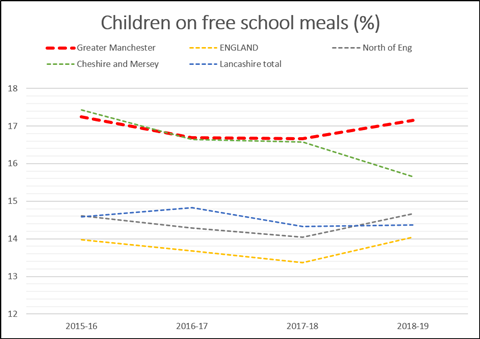 Source: Education Department statistics. Percentage of children starting school on free school meals.

Underweight kids
Children classed as underweight could have poor nutrition and health, and there is some evidence of higher mortality rates. It is also correlated with deprivation (as is obesity).
Greater Manchester again trails one of its regional neighbours in terms of achieving reductions on this measure, but now has fewer underweight children than the national average.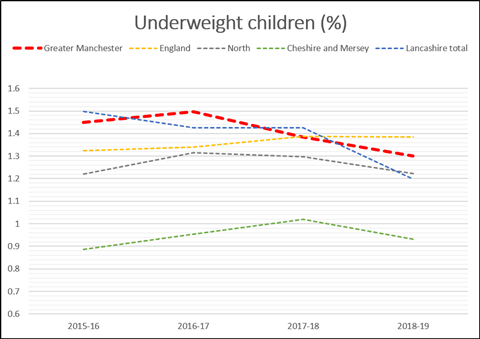 Source: Public Health England statistics
Physically active
This presents a better picture for Greater Manchester, albeit with only two years of data. The above average increase in children being physically active for at least an hour is likely due to some direct investment (including at least £2m from the transformation fund).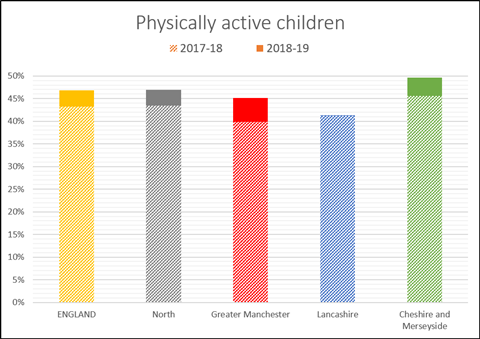 Source: Sport England. The percentage of school children (ages 5 - 16) who are physically active for at least one hour per day.
Mental health waiting times
Greater Manchester has been able to increase spending on children and young people's mental health care at a faster rate than average, and than its neighbouring regions.
This appears to have enabled a significant reduction in waiting times compared to the rest of the country and the north west, from an average of 68 days to 55. Again, there's only two years of data, so we can't see whether improvements were already being made prior to transformation fund investments (of at least £50m) across mental health.
One thing to note here is that GM has had an increase in referrals being closed before treatment started, in contrast to other areas. The Children's Commissioner says this can indicate that children are being turned down for specialist treatment, after being assessed, though it can also include cases where specialist treatment was not necessary.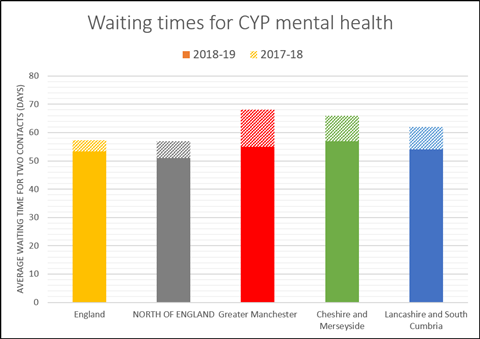 Source: NHS Digital. Average waiting time in days for mental health care, for two contacts, for children and young people
Self harm
This is another positive one for Greater Manchester, potentially benefitting from that mental health investment. with self-harm rates among 10-24 year olds increasing at a slower pace than they have elsewhere.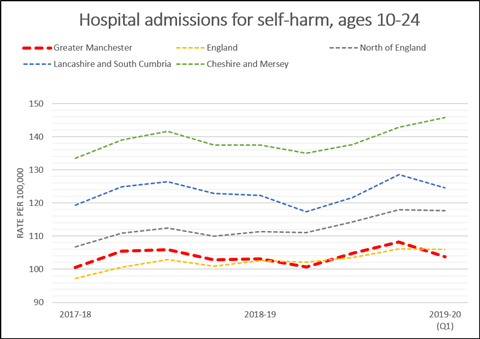 Source: NHS England's mental health dashboard.