NHS England and the Local Government Association both declared qualified victories on delayed discharges last week. But have they both called it a little too soon?
Improving patient flow throughout the health and social care system remains a key issue vexing system leaders as an endless winter drags on.
Emergency performance may have slumped to a new worst ever last month, and elective cancellations also hit a record low. But NHS and council chiefs have both cited efforts on a key flow measure, delayed transfers of care, as a Good News Story.
NHS England boss Simon Stevens told the public accounts committee last Monday that the health service had "genuinely turned the corner" on delayed discharges and praised "great progress on whole-system working".
Mr Stevens told MPs: "We were able to free up nearly 2,000 DTOC beds come this January… the best DTOC position… in two and a half years." (See the box below explaining what a "DTOC bed" is.)
LGA chair Lord Porter was, meanwhile, in full rallying cry, declaring that local government improvements had far outstripped those of the NHS and Mr Stevens was being "parochial".
The Conservative peer pointed to analysis by Impower and Local Government Chronicle, which said NHS attributed delays had increased by 4.7 per cent over between December and January, while delays due to social care had fallen by 2.7 per cent.
He said the LGA would now be able to "start standing up" to Mr Stevens.
The two sides' bitter row began last summer following ministers threatening funding cuts for councils, if they failed to deliver DTOC targets. Depressingly, it rumbles on.
So much for "whole system working".
But credit where credit's due to both councils and the NHS. DTOCs appear to have significantly reduced from a high water mark in February 2017, of a reported 6,660 DTOC beds across both NHS and social care attributed delays. And the overall trend has since then been going broadly in the right direction (see graph below).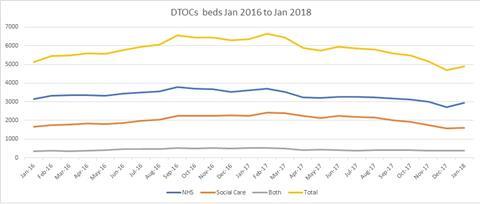 Source: NHS England data. See explainer below for further details
A quick health warning on the DTOC data: it's infamously unreliable. So, it's more a means of determining direction of travel, rather than a statistically rigorous conclusion (see below).
Total hospital bed days taken up by delayed transfers reduced from 5.6 per cent in the third quarter of 2016-17 to 4.5 per cent in the same period this year, notes Health Foundation senior policy fellow Tim Gardner.
This is "welcome progress", he says, but must come with the caveat that there is still clearly further to go. The system missed NHS England's 2017-18 mandate target that DTOCs should equate to less than 3.5 per cent of all NHS beds by September 2017. Neither social care nor the NHS met the requirement.
Moreover, the number of DTOC beds rose month on month between December and January. According to NHS England's most recent published data last week, DTOC beds rose by a couple of hundred to 4,913.
It was the first rise since August (though it is worth noting the 23 per cent reduction on January 2017). DTOCs usually rise between January and February. If there's a reason to be concerned, it's the end of the trend defying performance over the previous 10 months or so.
Predictions are a mug's game but I would expect a further rise occurred in February given the adverse weather, high levels of flu, norovirus and general acuity.
So, while the past year has been promising: it feels like battles rather than the war have been won as regards DTOCs.
On the subject of battles, resolution of the ongoing feud between local government and the NHS would appear a pre-requisite if there is to be a genuinely integrated drive to robustly address the huge number of beds still filled by patients who are medically fit for discharge, even if a good start has been made.
A bit of argybargy between NHS England and the LGA doesn't preclude good local council NHS relations, but it certainly sets an adversarial tone and feeds into national level policy.
This month also saw the soft launch of NHS Improvement's latest DTOC tool, which you can read more about and check how your local area is performing here. It is carrying out a beta test on which you can provide feedback on.
What is a delayed transfer of care?
As this handy King's Fund explainer sets out, a delayed transfer of care occurs when a patient is ready to leave a hospital or similar care provider but is still occupying a bed.
Delays can occur when patients are being discharged home or to a supported care facility, such as a residential or nursing home, or are awaiting transfer to a community hospital or hospice.
NHS England defines a patient as being ready for transfer when:
a clinical decision has been made that the patient is ready for transfer;
a multidisciplinary team has decided that the patient is ready for transfer; and
the patient is safe to discharge/transfer.
As soon as a patient meets these three conditions and remains in a bed, they are classified as "a delayed transfer".
It's important to note patients assessed as being medically fit for discharge by a consultant or other clinician is not counted as a delayed transfer before this fuller assessment takes place and they have met all of the set conditions.
How is the data calculated?
The NHS England DTOC measure is calculated by dividing the number of delayed days during the month by the number of calendar days in the month. The calculation is made against occupied bed days rather than total available beds.
The total delayed days, for example 152,300 in January 2018, is then converted into an "equivalent daily DTOC beds" estimate, this was 4,913, and this is the figure that seniors use when gauging progress.
The NHS England data also attributes DTOCs to organisations causing the delay. For example, the January release says 59.9 per cent of all delays in the month were attributable to the NHS, 32.5 per cent to social care and the remaining 7.6 per cent to both.